About Patricia Meredith
About Patricia Meredith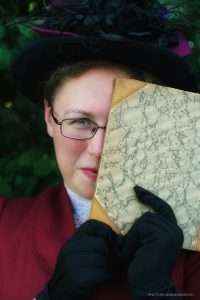 Patricia Meredith is the author of historical and cozy mysteries. She currently lives just outside Spokane, Washington on a farm with peacocks, ducks, guinea fowl, chickens, and sheep. When she's not writing, she's playing board games with her husband, creating imaginary worlds with her two kids, or out in the garden reading a good book with a cup of tea.
Patricia Meredith currently has two novels seeking publication. The first is The Butcher, the Baker, the Candlestick Taker. Set in 1901 Spokane, Washington, the designer of the Great Northern Railroad depot clock tower is thrilled when his talent for creating unique clock chimes is recognized by a local patroness, until she is found beheaded in the workshop of his new colleague. Her second book, A Woman's Intuitions, weaves The Leavenworth Case with Anna Katharine Green's true history as she writes one of the first detective mystery novels, setting the stage for future writers like Sir Arthur Conan Doyle and Agatha Christie. Patricia Meredith is represented by Julie Gwinn of the Seymour Agency. (Learn more about these projects and others under the "Books" heading.)
Before taking the dive into mystery, Patricia Meredith was the fiction editor of over 20 novels and miscellaneous publications, working with magazines, businesses, and publishers on a variety of projects from art books (such as The Art of George R.R. Martin's A Song of Ice and Fire) to fantasy novels (such as Rising Sun, Falling Shadows, winner of the 2013 Scribe Award for Best Original Novel). Her specialty is science-fiction and fantasy novels. She has worked with such names as George R.R. Martin, Tracy Hickman, and Graham McNeill (click here for a complete list). She launched the novel department for Fantasy Flight Games, so she also has experience in the behind-the-scenes of publication.