Escapades of a Spokane Thief
Escapades of a Spokane Thief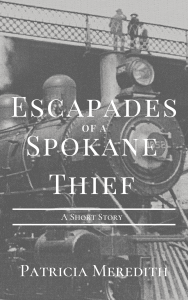 This short story actually began life as the prologue to my book Butcher, Baker, Candlestick Taker. I thought it'd be fun to share with you this fun little adventure that started things off.
What makes this story even more fun, in my opinion, is that it was inspired by a real article from The Spokane Falls Review:
"Talking about prisoners jumping through car windows to get away from their keepers," remarked an old sheriff, as he kept his eye on two men who were handcuffed together and occupied the seat in front of him, "let me tell you a little story. About fifteen years ago I was taking a chap up to Joliet one night and as I always thought myself good enough for any one man, and, as he was a quiet one, anyhow, I took the clamps off him. I had had him in charge several months, and I thought him a big coward; so when he asked permission to go into the closet I let him go, feeling confident he would never jump with the train going forty miles an hour. "He didn't come back directly, and then I got scared and looked for him. The window of the closet was wide open, and it was too plain he had made the jump. I stopped the train and we ran back, got out lanterns and looked for him. I expected to find him dead by the side of the track, but not a sign of him did we discover, except that I found his hat where he had jumped. The train went on and I stayed there, swore in a posse from among a lot of section hands, and offered a reward. But I never found him—not even a track nor a sign, save that hat. It was always one of the greatest mysteries to me how he got away. The fall must have hurt him as there was a high bank there, and how a man could get away so quick after such a terrible jump was more than I could understand. "Ten years afterward I came across that man in the pen in Joliet, where he was a ten-year burglar. He told me how he had got away, and laughed so over it that I'll bet the day he got a chance to tell me of his cleverness was the brightest one he had passed in many a year. He had simply climbed out the window, reached up to the ventilators with his hands, and pulled himself up to the top of the coach. There he lay and heard us talk about catching him. When the train went on with him and without me, he was very happy. As soon as he got a chance at one of the stations he jumped upon a freight train, and from that out was nothing but a common tramp. Pretty slick, wasn't it?"

—Spokane Falls Review, Feb 21, 1885, "How the Prisoner Escaped" (Chicago Herald "Train Talk"), page 3, column 5
In my book, Butcher, Baker, Candlestick Taker, I often found inspiration from real-life articles from the local newspapers. To the point of being dragged down rabbit holes of research that were far too fun to ignore. 😉
I'll be sharing a lot more about how I took local history and incorporated it into my first fictional mystery here on my blog, so be sure to sign up for my newsletter and follow me on Instagram, Facebook, and Goodreads.
You can download the short story for FREE right here: "Escapades of a Spokane Thief"!
I'd love to hear in the comments what you thought of the story! Thanks for reading!