Cooking Quotes from 19th Century Cookbooks
Cooking Quotes from 19th Century Cookbooks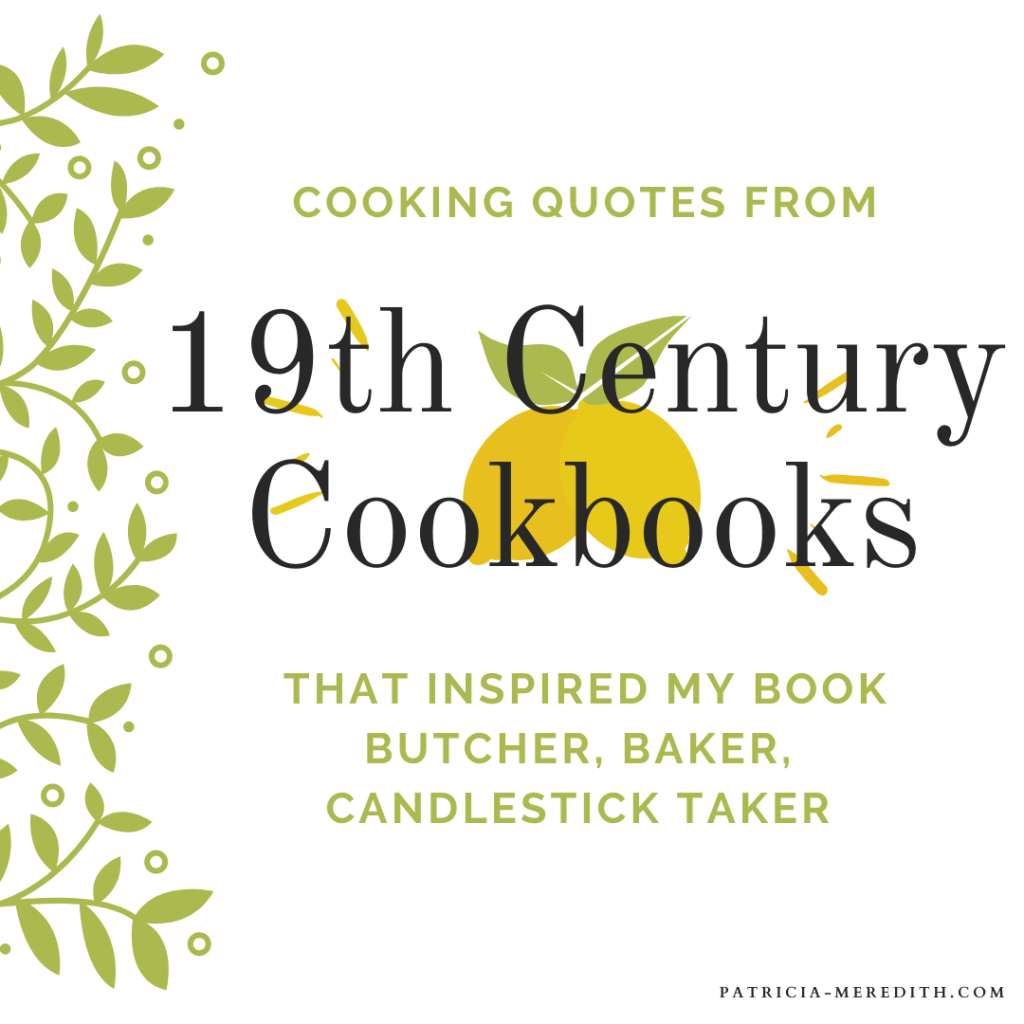 While writing Butcher, Baker, Candlestick Taker, I had such great fun finding ways to incorporate some of the many, many 19th century cookbooks I came across along the way! From Eleanor's cleaning skills to Mrs. Curry's menus and cooking tips, all were inspired by or taken from cookbooks of the time period.
Over the next few weeks I'll be sharing some of the fascinating quotes I came across—not all of which, of course, could be incorporated into this book, but there are more books to come!
When I first discovered Pinterest, what fascinated me most was discovering all the wonderful ideas other people had for creating things, from crafts for kids to recipes. When cookbooks first came into existence, they did much the same thing. Before them, everyone cooked how their mother had taught them. There was no collection, no "common cookbook" way of doing it. No way of knowing how or what someone from a different background or culture cooked. It was a pinch of this, a pinch of that.
"The first cookbook to be published in British America was The Compleat Housewife …which had first been published in London in 1727." (Early American Cooking)
I'll start with some cooking quotes, though you'll find 19th century cookbooks contained much, much more than just recipes. It was a place to find tips and tricks and recipes for cooking, cleaning, and natural remedies, but also SO much more. Many included dissertations on etiquette, how to run a household, tips for living frugally, etc.
I think you'll be surprised by how much is still applicable today, or perhaps you've even heard of already!
I've shared the quotes below in a slideshow taken from a presentation I used to give at local libraries. Just click on the arrows to either side and you should be taken to the next slide. 🙂
I think the opening slide in particular is a wonderful reminder of how, though we might look back with envy on the fourteen-course dinners of the Victorian Age, we must remind ourselves that not everyone ate that way. In fact, poverty was rampant, but anyone can make dinner nice with a few special, thoughtful touches.
One of the most interesting things I noticed in the recipes is the fact that often there's no oven temp given or cooking time. This is mostly due to the fact that ovens at this time did not have thermometers on them to indicate how hot they were. The cooks simply had their hand, though in some other cookbooks, you'll at least find "Bake at medium heat" (usually things that require 325-375) or "High heat" (usually things that require 400-500).
This sort of thing, which is very common in 19th century cookbooks, makes it feel like the British Baking Show in the technical round! Just simple directions, assuming basic understanding of cooking and baking.
My absolute favorite recipe is the "Boston Baked Beans" recipe found in A Feast of Good Things (slide #9)—it's written as a poem!
In addition to recipes, many cookbooks also began or ended with thoughts on cooking/housekeeping in general. This one, in particular, from The Home Cook Book (1877), I loved because it proves once more that there is nothing new under the sun!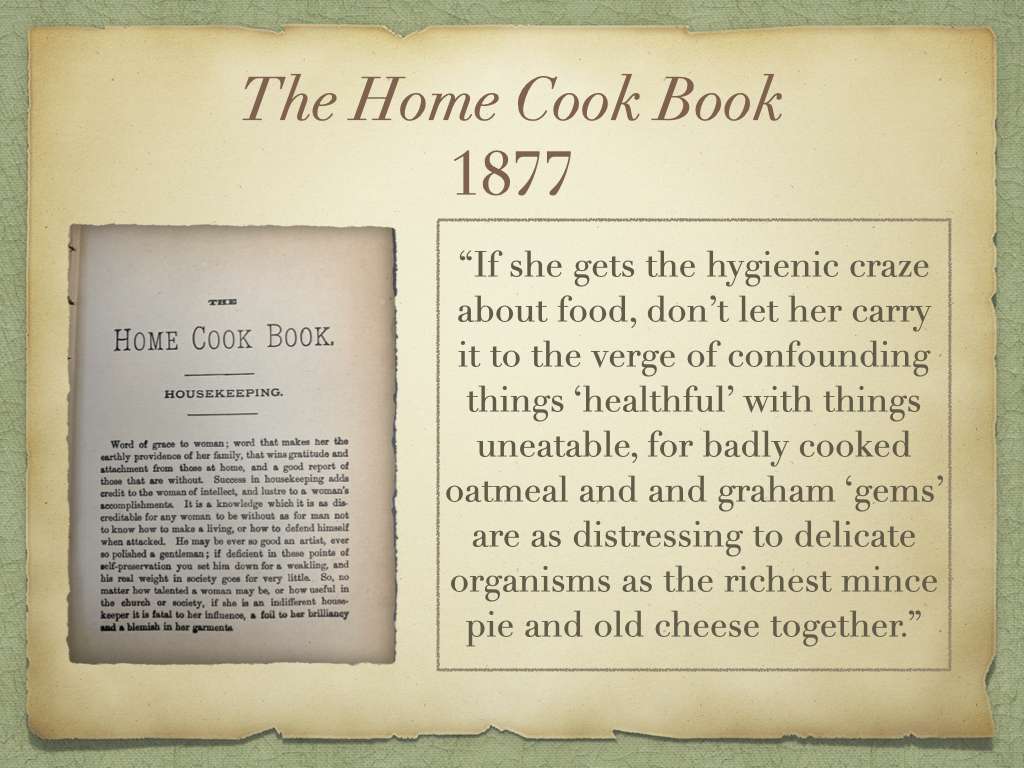 You can learn more about my historical mystery, Butcher, Baker, Candlestick Taker, here. Be sure to add the book to your Goodreads Want to Read List so you'll know when I reveal the cover and the book is available for pre-order! You can also follow me on Instagram, Facebook, or sign up for my newsletter for all the latest updates!
Thank you for reading!
For a wonderful collection of archived cookbooks from throughout the centuries, check out: https://digital.lib.msu.edu/projects/cookbooks/html/browse_date.cfm
A Feast of Good Things, Prepared by the Ladies of First Presbyterian Church of Spokane, WA, Published 1895 (Pictures my own, taken with permission by the Ferris Archives.)
The American Frugal Housewife, by Mrs. Lydia Maria Child, Published 1841 https://d.lib.msu.edu/fa/33#page/8/mode/2up
The American Weekly's Cookbook, by Isabel Gordon Curtis, Published 1909 (Pictures my own, taken with permission by the Ferris Archives.)
Epicurean Cookbook, Published 1894 https://d.lib.msu.edu/fa/26#page/1/mode/2up
Fannie Farmer's Boston Cooking School Cookbook, Published 1896 https://d.lib.msu.edu/fa/8#page/2/mode/2up
The First Presbyterian Cook Book, Prepared by the Ladies of First Presbyterian Church of Spokane, WA, Published 1906 or 1907 (Pictures my own, taken with permission by the Ferris Archives.)
The Home Cook Book, Published 1877 (Pictures my own, taken with permission by the Ferris Archives.)
Mrs. Rorer's New Cook Book, Published 1902, Originally published in 1886 https://d.lib.msu.edu/fa/63#page/1/mode/2up
Practical American Cookery and Household Management, by Julie Corson, Published 1886 https://d.lib.msu.edu/fa/58#page/1/mode/2up
The Settlement Cookbook, by Mrs. Simon Kander, Published 1901 https://d.lib.msu.edu/fa/66#page/1/mode/2up
Woman Suffrage Cook Book, by Hattie A. Burr, Published 1886 https://d.lib.msu.edu/fa/74#page/6/mode/2up