Cleaning Quotes from 19th Century Cookbooks
Cleaning Quotes from 19th Century Cookbooks
Last week I shared some cooking quotes from 19th century cookbooks that inspired my book, Butcher, Baker, Candlestick Taker, in particular the menus cooked by Mrs. Curry.
This week I'd like to share some of the cleaning tips I gleaned through my research, many of which I incorporated into the daily duties of my maid character, Eleanor Sigmund.
For example, this quote was inspired by this detail shared in Fannie Farmer's Boston Cooking-School Cookbook, 1896: "To prevent Glassware from being easily broken, put in a kettle of cold water, heat gradually until water has reached boiling point. Set aside; when water is cold take out glass. This is a most desirable way to toughen lamp chimneys."
These two scenes were inspired by lines found in Miss Corson's Practical American Cookery and Household Management, 1886.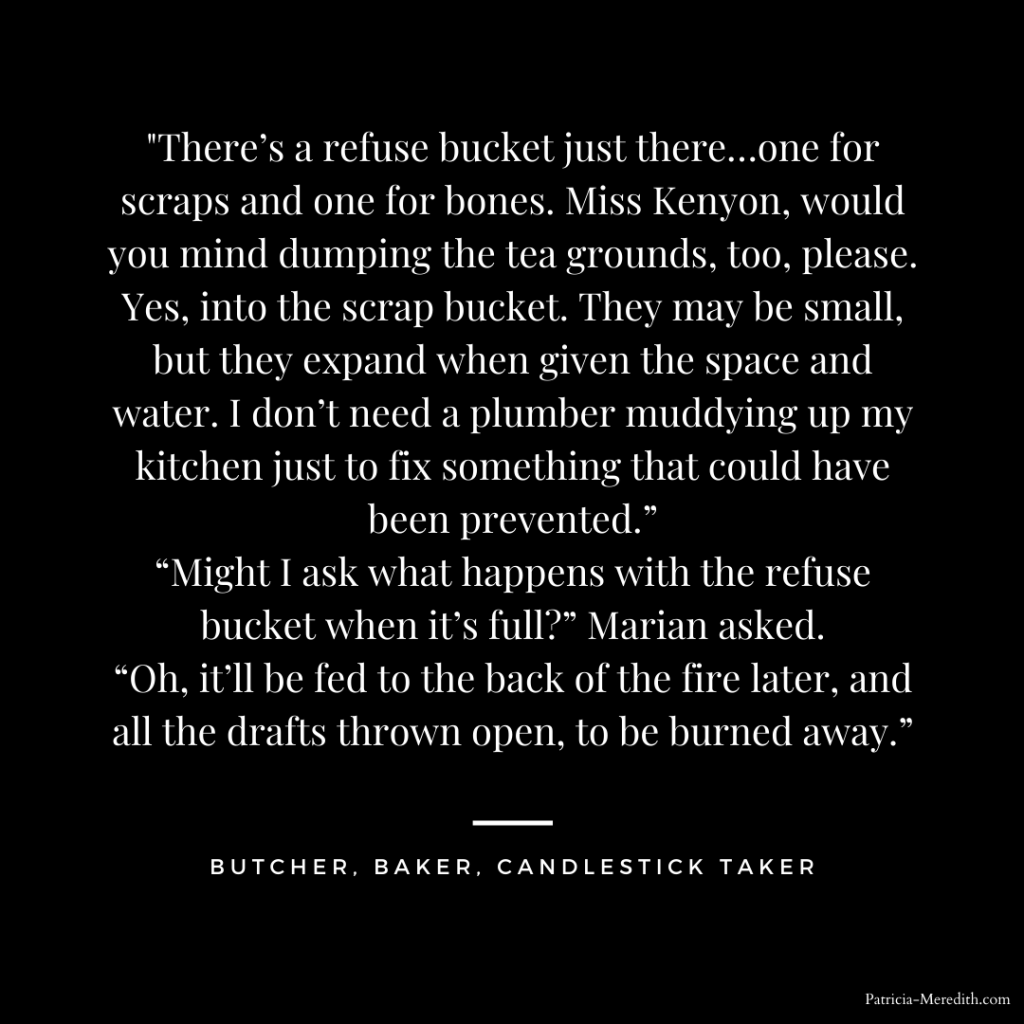 I've shared some more great quotes below in a slideshow format, taken from a presentation I used to give at local libraries. Just click on the arrows to either side and you should be taken to the next slide. 🙂
The last slide makes an excellent segue into next week's collection of quotes: Home Health…
You can learn more about my historical mystery, Butcher, Baker, Candlestick Taker, here. Be sure to add the book to your Goodreads Want to Read List so you'll know when I reveal the cover and the book is available for pre-order! You can also follow me on Instagram, Facebook, or sign up for my newsletter for all the latest updates!
Thank you for reading!
For a wonderful collection of archived cookbooks from throughout the centuries, check out: https://digital.lib.msu.edu/projects/cookbooks/html/browse_date.cfm
A Feast of Good Things, Prepared by the Ladies of First Presbyterian Church of Spokane, WA, Published 1895 (Pictures my own, taken with permission by the Ferris Archives.)
The American Frugal Housewife, by Mrs. Lydia Maria Child, Published 1841 https://d.lib.msu.edu/fa/33#page/8/mode/2up
The American Weekly's Cookbook, by Isabel Gordon Curtis, Published 1909 (Pictures my own, taken with permission by the Ferris Archives.)
Epicurean Cookbook, Published 1894 https://d.lib.msu.edu/fa/26#page/1/mode/2up
Fannie Farmer's Boston Cooking School Cookbook, Published 1896 https://d.lib.msu.edu/fa/8#page/2/mode/2up
The First Presbyterian Cook Book, Prepared by the Ladies of First Presbyterian Church of Spokane, WA, Published 1906 or 1907 (Pictures my own, taken with permission by the Ferris Archives.)
The Home Cook Book, Published 1877 (Pictures my own, taken with permission by the Ferris Archives.)
Mrs. Rorer's New Cook Book, Published 1902, Originally published in 1886 https://d.lib.msu.edu/fa/63#page/1/mode/2up
Practical American Cookery and Household Management, by Julie Corson, Published 1886 https://d.lib.msu.edu/fa/58#page/1/mode/2up
The Settlement Cookbook, by Mrs. Simon Kander, Published 1901 https://d.lib.msu.edu/fa/66#page/1/mode/2up
Woman Suffrage Cook Book, by Hattie A. Burr, Published 1886 https://d.lib.msu.edu/fa/74#page/6/mode/2up