I LOVE Libraries!
I LOVE Libraries!
Libraries will always hold a special place in my heart.
In my junior year in high school, I was encouraged to intern somewhere in a job shadow. This turned into working at my local public library for two years, which then led to my doing a work-study at my college, Whitworth University, until graduation.
Working in libraries taught me many things about myself, the biggest one being that I am definitely an INFJ: I like to work alone, in the quiet, with nothing but the smell and touch of books to keep me company, and I enjoy organizing things to an enormous degree—I actually like cataloging and reshelving.
One of the things I always worried about/felt guilty about was my tendency to check out books from the library rather than purchase them. After all, books cost money and as much as I'd love to buy All The Books, sometimes you just can't. I often worried that by doing so, I wasn't supporting the author, which I naturally want to do because if you support an author, they write more books.
I didn't learn until only recently that you support authors by checking out their books from the library!
There are three basic ways that libraries obtain books:
One Copy, One User
The first is "One Copy, One User," which is your basic library model for print books, but it can also apply to ebook and audiobook formats. This means, the library buys one copy of a book to lend, which means if someone has it checked out, you have to put the book on hold and add your name to a waitlist to get a copy.
The author is, therefore, paid for every copy of the book the library owns, in any format. I'll let you in on a secret, too: publishers charge libraries more for copies of books to compensate for multiple people reading one copy.
The more people who request the book, the more copies the library is going to purchase to meet the demand! So never hesitate to request a book you're interested in at your library.
Cost Per Checkout
The "Cost Per Checkout" model, however, allows the library to offer unlimited copies of the ebook and audiobook. Instead of paying for one copy, they are allowed to offer the book in their system, and then they have to pay a much, much lower cost (usually about 1/10th of the price) for each checkout of the book. This is very helpful to libraries because now they can offer All The Books but only pay for the ones that actually get checked out.
This is also good for authors like me who are independent/self-pub because it means my book is available everywhere if people just go looking for it, and even if they aren't looking for it, they might stumble across it.
Under this model, the author is paid per checkout, which means if you check out the book multiple times (whether it's because you didn't finish it the first time or because you love it so much you want to read it again) every time you check it out, the author gets paid.
Donations
Libraries love donated books. It's how they got started and it's how they continue to thrive. Although it's not possible to donate an ebook or audiobook (unless it's available on CD), print books are always welcome.
Please, buy a copy of Butcher, Baker, Candlestick Taker to donate to your library! That's an incredible way to support both your library and me, the author, while also helping others to find a book you know they'll enjoy!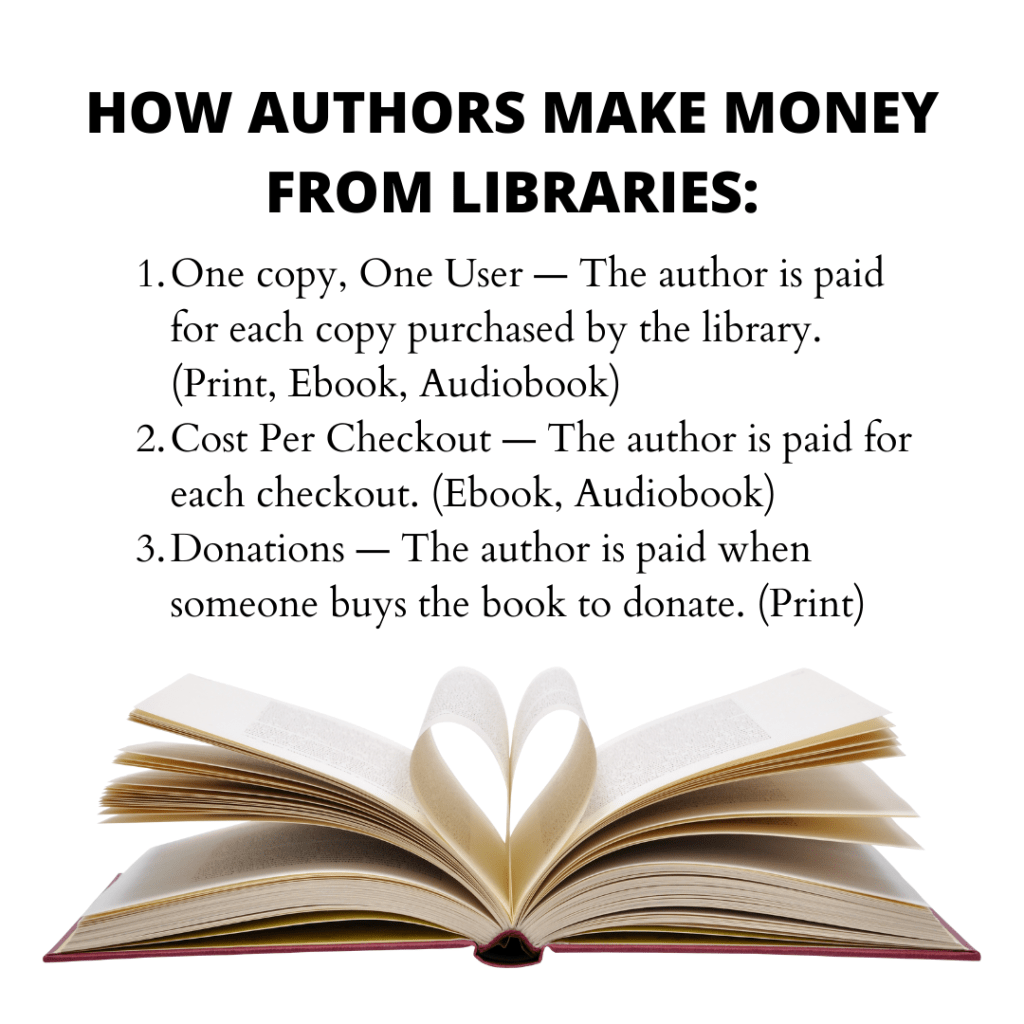 So now you're wondering, how do I request Butcher, Baker, Candlestick Taker from my library?
Libraries generally make it super simple to request a book. You'll need to go to your library's website to find out how they prefer to be notified. For example, the Spokane Public Library has a form you can fill out online to request the book.
Libby, which is an app run by Overdrive, offers a great step-by-step web page that'll walk you through how to request Butcher, Baker, Candlestick Taker through your local library!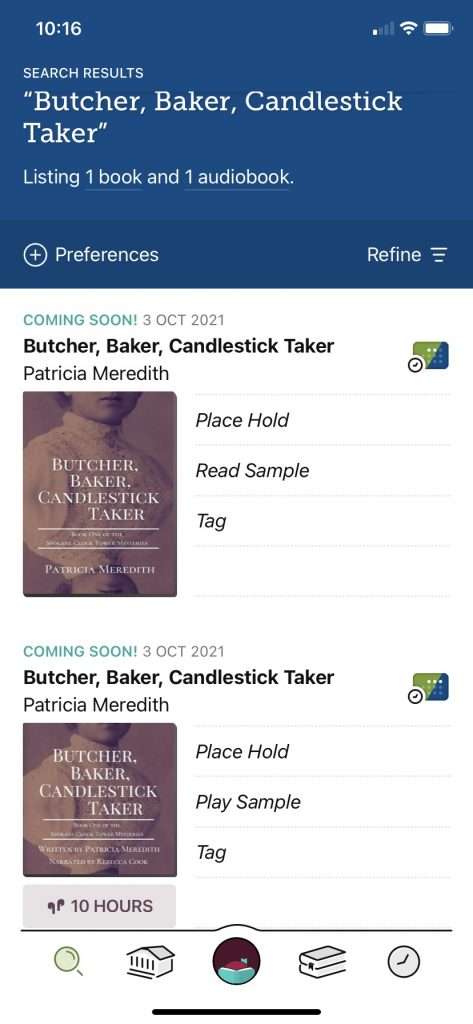 Does your library have my book?
Let me know in the comments here or on social media if your library is carrying Butcher, Baker, Candlestick Taker!
If not, request it! (If you need the ISBNs, head here.)
If they have it, put it on hold!
And finally, tell everyone you know to do the same! 🙂
Keep in mind that often a library may not purchase a book until someone has requested it! And the more people who request the book, the more copies the library is likely to order to meet the interested patrons!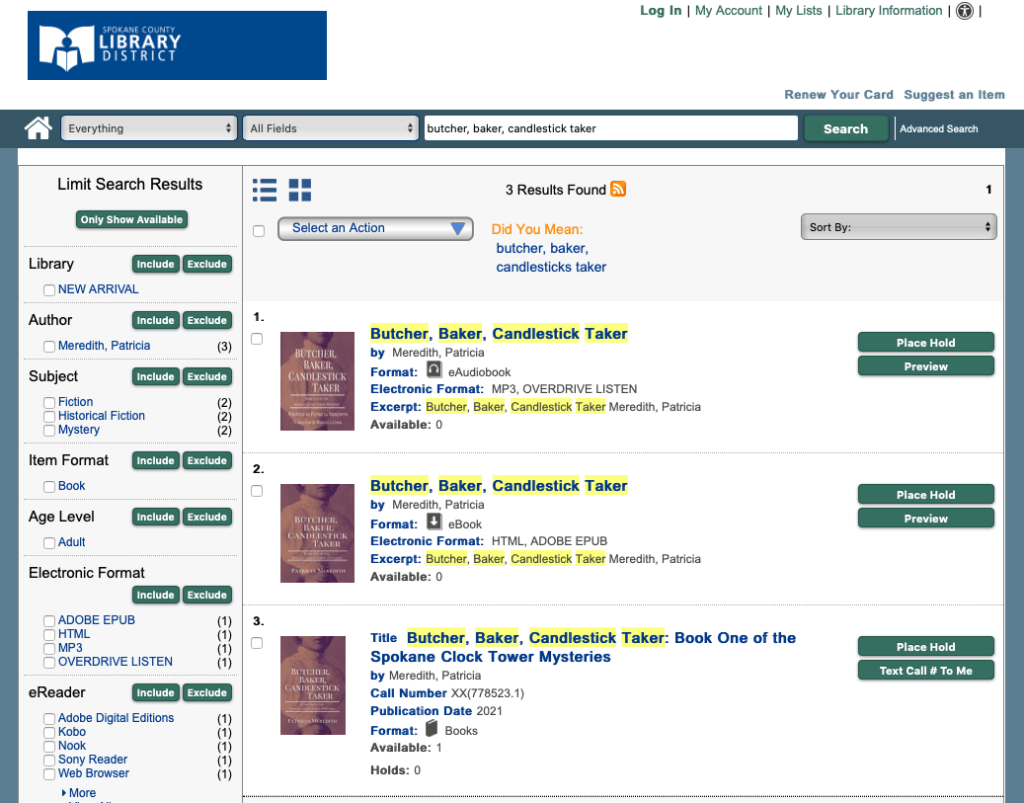 As Neil Gaiman once wrote, "[D]on't ever apologise to an author for buying something in paperback, or taking it out from a library (that's what they're there for. Use your library). Don't apologise to this author for buying books second hand, or getting them from bookcrossing or borrowing a friend's copy. What's important to me is that people read the books and enjoy them, and that, at some point in there, the book was bought by someone. And that people who like things, tell other people. The most important thing is that people read…"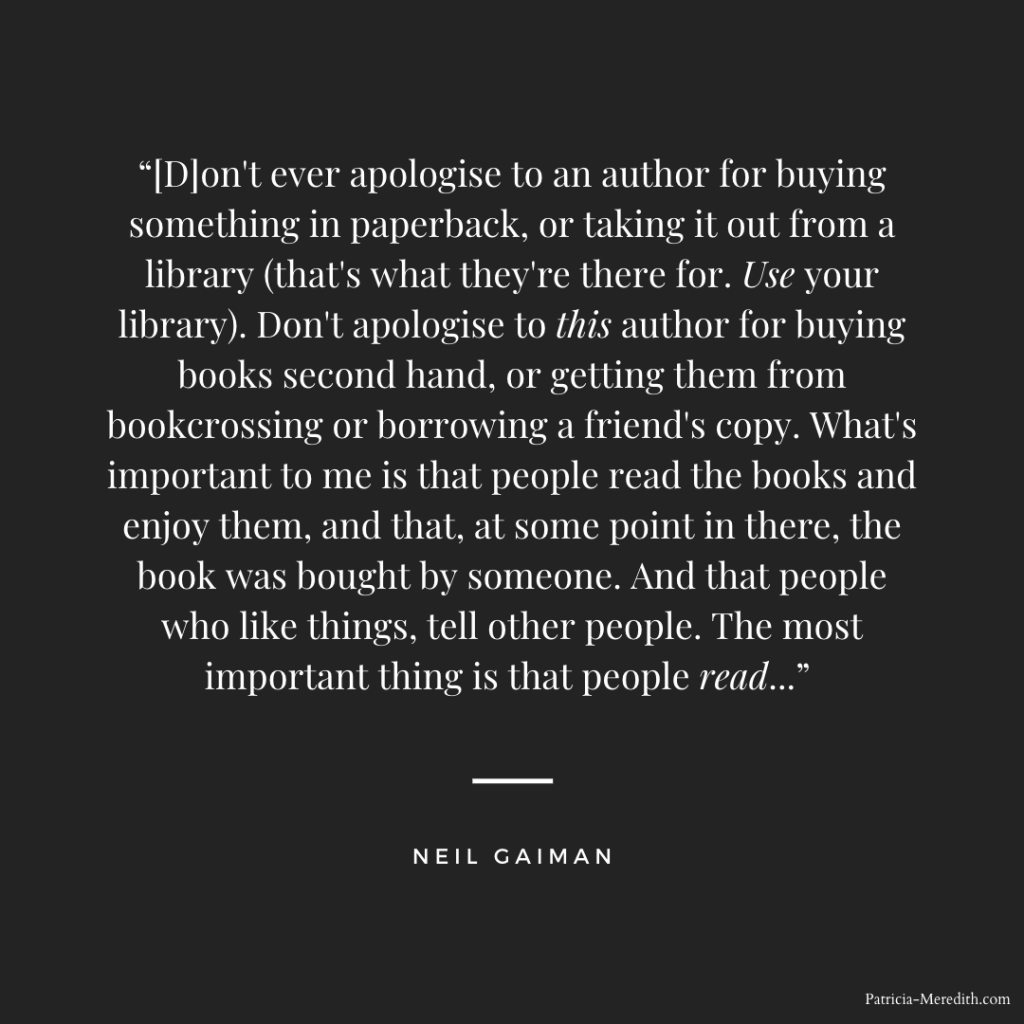 I hope this post helped you to see how you can support your favorite authors and your local library at the same time! Next time, book clubs…
Butcher, Baker, Candlestick Taker is available for pre-order! Visit linktr.ee/pmeredithauthor to find links to All The Things: pre-order the book, watch the book trailer, news interviews, newsletter, social media, and more.
Thank you, Dear Readers!
UPDATE 10/5/2021—Because of readers like you who support your local libraries, on release day of Butcher, Baker, Candlestick Taker, October 4, 2021, there were over 33 people and counting on the wait list at the Spokane Public Library! THANK YOU!!!!!!