The President is Coming to Spokane!
The President is Coming to Spokane!
The year is 1901, the day, April 16. You reach for your copy of The Spokesman-Review and low-and-behold, you read that President McKinley himself is coming to Spokane, Washington!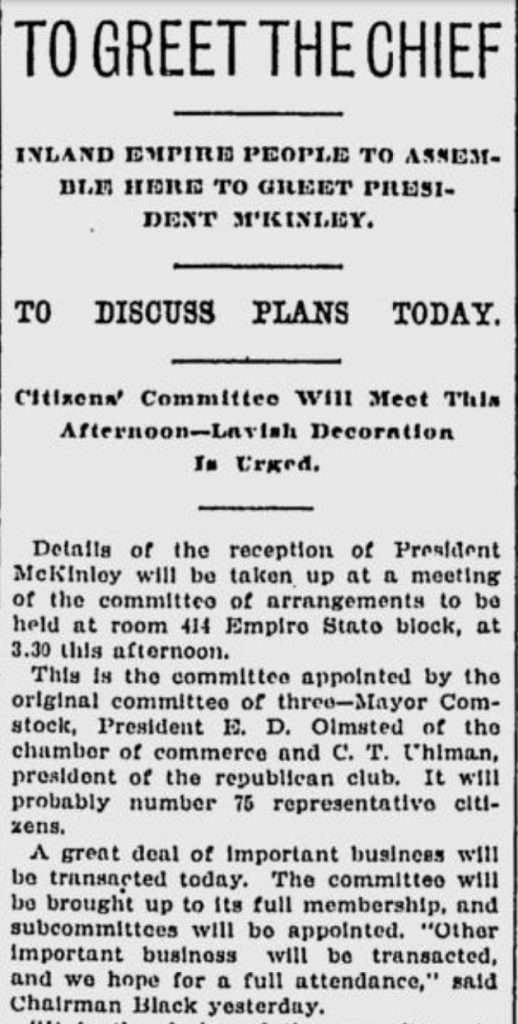 A few days later, Ohio-born Amasa Campbell, jots off a few letters to friends and family:
"The President will be out to visit us about the 26th of May and will be in Spokane for two days, and will stop with me." [Letter to Kipp, 4/27/01]
Finally, on May 7, The Spokane Chronicle gets ahold of the news, and announces it to the world: President McKinley will be staying with the Campbells on his trip through Spokane!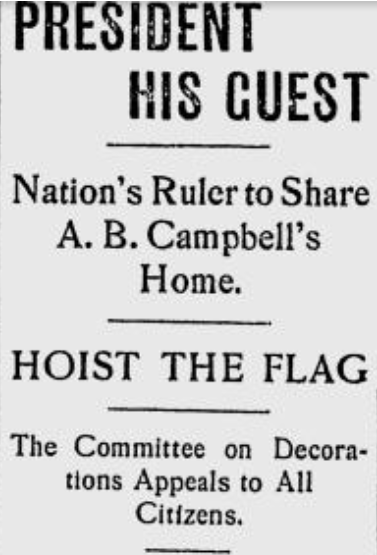 Well, the cat's out of the bag now, so Campbell writes a few more letters:
"The President and his wife are going to stop with me while in Spokane Sunday and Monday." [Letter to Campbell, 5/8/01]
"Grace and I are going to have the President with us for two days while stops in Spokane. This is all arranged and I guess we can take care of him." [Letter to Ford, 5/11/01]
The countdown begins May 13!
Will President McKinley make it to Spokane? Find out as we follow the news leading up to the release of Cupboards All Bared, the second book in the Spokane Clock Tower Mysteries!
Be sure to tell your friends about the Spokane Clock Tower Mysteries today! Butcher, Baker, Candlestick Taker is available in print, ebook, and audiobook; you can also request it through your local library! The sequel, Cupboards All Bared, is now available for pre-order!
To learn more about my writing and books, search my website. You can also follow me on Facebook, Instagram, YouTube, or Goodreads—while you're over there, be sure to follow my author profile and add Butcher, Baker, Candlestick Taker and Cupboards All Bared to your Want to Read List. Following an author ensures you'll be the first to hear when a new book is released (coming soon!) or a giveaway is happening!
Sign up for my newsletter to receive my newest blogs delivered straight to your inbox. You'll receive my latest short story, "Murder for a Jar of Red Rum," for free for signing up!
Thank you so much for reading!