How Libraries Help Authors
How Libraries Help Authors
Looking for something to read this summer? Check out books from your library! Worried it doesn't support authors? Learn more about how libraries help authors in more ways than one in my new video on YouTube!
Thank you Spokane County Library, Spokane Public Library, Stevens County Library, and Pikes Peak Library District for offering my books to your patrons!
Does your library have my books? Share in the comments!
Read my previous blog about why I Love Libraries here.
You can read my full review of Marie Benedict's book Carnegie's Maid here. Follow me while you're on Goodreads to be the first to hear when I post a review! Add Butcher, Baker, Candlestick Taker, and Cupboards All Bared to your Want to Read list on Goodreads while you're there!
Be sure to visit my Events page to find out when I'll be doing my next virtual event through a library. The great thing about virtual is that ANYONE can attend from ANYWHERE!
Would you like to schedule an event with me through your library? Have your library email me at author(at)patricia-meredith.com today to start the conversation!
Cupboards All Bared
In this sequel to Butcher, Baker, Candlestick Taker, we're once again transported to Spokane, 1901. A body discovered in Hangman Creek looks to be the result of an accidental fall, but what begins as a "simple" mystery for Thomas Carew and his twin brother Bernard quickly becomes a lot more complicated, including implications that tie in with the bombings at the Idaho mines, and perhaps even President McKinley's planned visit.
Cupboards All Bared is Book 2 in the Spokane Clock Tower Mysteries.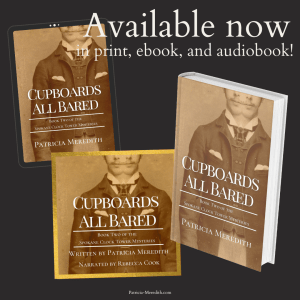 Cupboards All Bared is available in all formats wherever books are sold! Click the image above to find it in your favorite format, or request it today from your local bookstore!
Be sure to follow me on Instagram and Facebook. Sign up for my newsletter to receive my newest blogs delivered straight to your inbox. You'll receive my latest short story, "Murder for a Jar of Red Rum," for free for signing up!
Find all you need to know about the Spokane Clock Tower Mysteries, including the ISBNs of the books so you can request them through your library, by clicking the image below.