Apple Pie from 1890-1905
Apple Pie from 1890-1905
Join me as I try out Christmas recipes circa 1900!
Last year, I shared three recipes from three different cookbooks. You can find them here:
You can also find all my recipe videos in one easy playlist on my YouTube channel. (Be sure to hit that subscribe button while you're there!)
This first recipe is for Apple Pie from a mix of cookbooks, one published in 1890, the other in 1905.
Pie Crust
I made my own pie crust following this recipe:
3 cup flour
1 cup butter or margarine
2 tsp salt
Cold water
Mix flour and salt in bowl.
Add in half of the butter and cut into the flour with a pastry cutter, or use fingers until it's in pea-sized balls. Add rest of butter and cut in the same.
Pour in cold water a tablespoon at a time. Mix by hand until correct consistency is reached.
Separate into two balls. Chill until ready to bake, at least 30 minutes.
Apple Pie
I ended up doing an amalgam of two recipes.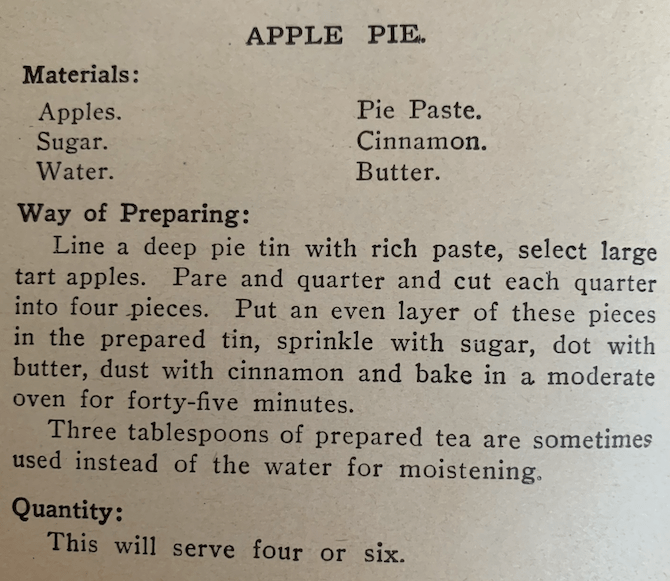 —A Book for a Cook by Pillsbury, published in Minneapolis, Minnesota, 1905
Also,
—The Compendium of Cookery and Reliable Recipes, as prepared by Mrs. E. C. Blakeslee of Chicago, Miss Emma Leslie of Philadelphia, and Dr. S. H. Hughes, chemist, of Boston, published in Chicago, 1890
I baked my pie at 425 F for 15 minutes, then turned the oven down to 375 F for 30 minutes.
Pie Crust Cookies
Turn the extra pie crust into pie crust cookies!
Pie crust dough
1/4 cup melted butter
Cinnamon sugar
Roll out pie crust dough.
Cut dough into fun shapes and place on baking pan.
Wipe with butter and sprinkle in cinnamon sugar.
I baked these cookies along with my pie at 425 F for 15 minutes.
Thank you for joining me!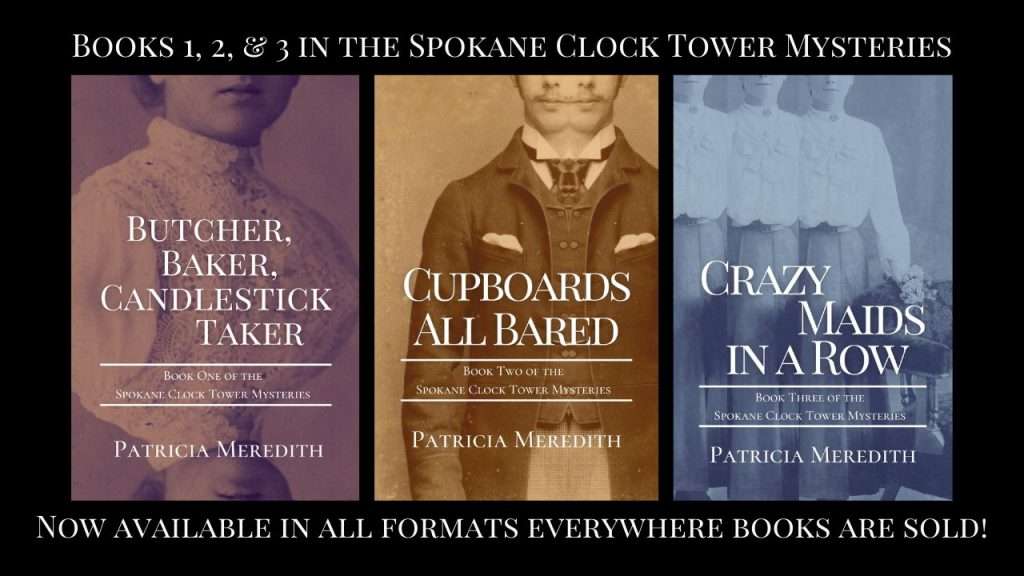 Sign up for my newsletter to receive my newest blogs delivered straight to your inbox. This includes sneak peeks and behind-the-scenes for all my books! You'll receive my latest short story, "Murder for a Jar of Red Rum," for FREE for signing up!
Be sure to also follow me on Instagram and Facebook to hear the latest news concerning new book releases and events. And of course, subscribe to my YouTube channel!
Add my books to your Want to Read list on Goodreads! Follow my Author Page while you're there!
Check out my Christmas Sale!
This is your perfect chance to pick up the first three books in the Spokane Clock Tower Mysteries direct from the author SIGNED for one low price! A perfect Christmas gift!