I'm Coming to Spokane!
I'm Coming to Spokane!
This weekend I'll be in Spokane, Washington!
The place that inspired the writing of The Spokane Clock Tower Mysteries!
I will be in Spokane these date—be sure to pop by one or more of these events to say hi and learn more about my books!
Spokane Authors Presentation (private event), October 13, 2023
Campbell House Event, October 14, 2023

The Spokane Clock Tower Mysteries
Presenter: Book author, Patricia Meredith
When: Saturday, Oct 14, 2023, 12 – 4 pm
Cost: FREE ($10, suggested donation)
Location: Eric A. Johnston Auditorium, and Campbell House
Join historical fiction author Patricia Meredith for a special afternoon event celebrating her Spokane Clock Tower Mysteries series, the first three books of which are now available in all formats.
All books in the series are set in 1901 Spokane and feature real-life people, events, and locations from our town's history. Meredith will give a presentation in the auditorium about the research she did for the books, plus offer a selected reading, and answer any questions regarding the history behind the mysteries. After her talk, join her for a walk through the Campbell House to get a glimpse into the world featured in the books! Book signing follows the program until 4 pm. *Books will be available for purchase at the museum store
Shadle Spokane Library Presentation, October 15, 2023 at 3:00 pm

Bringing Spokane's Past into the Present: Join author Patricia Meredith as she takes the deep-dive into the very real history behind her latest historical mystery in the Spokane Clock Tower Mysteries!
Medical Lake High School (private event), October 17, 2023
Spokane Westerners Presentation (private event), October 19, 2023
I realize some of these are private events, but I wanted to include them in the list so you saw I am available for such things in the future!
Should you be interested in scheduling me for an event in your hometown, email me at author@patricia-meredith.com!
I am also available for virtual events all over the world!
Book Clubs: What's cooler than having the author join you for your discussion?!
Has your book club read one of my books? Find character lists, synopses, research, and more here on my website, especially under the menu heading "Book Clubs."
I would love to meet with you! Contact me today at author@patricia-meredith.com about joining your discussion. I'd love to answer all your questions and reveal more about the research, writing process, and character development that went into the writing of the book! I am available for both in-person and virtual events. I can't wait to hear from you!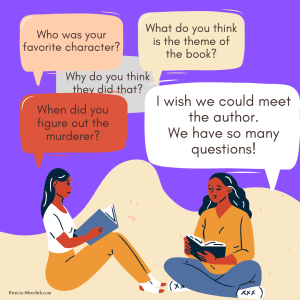 Subscribe to my newsletter to be the first to hear about future events, new blog posts, book releases, and more!
If you're already a subscriber: THANK YOU SO MUCH! Your support means the world to me!
Right now, if you sign up, you'll also receive a FREE ebook copy of The Leavenworth Case!
Published nine years before Sherlock's first appearance, this debut novel by the Mother of American Detective Fiction would be credited as changing the mystery genre forever. The Leavenworth Case's dynamic prose and intriguing characters—especially the introduction of Detective Gryce, the first recurring American detective in fiction—would set the stage for all mystery novels written thereafter. After its publication, Yale University would add The Leavenworth Case to its required reading list in law classes, as an admirable example of the perils of circumstantial evidence.
Agatha Christie would credit it as one of the books that encouraged her to try her hand at writing mystery in the first place. Filled with all the recognizable devices now used by the modern mystery author, Anna Katharine Green was the first to compile them all into one novel that was an overnight bestseller from the moment it hit the shelves, selling over a million copies by the time of her death.
This edition includes an engaging introduction by Patricia Meredith, author of A Deed of Dreadful Note, the first historical fiction mystery featuring Anna Katharine Green as an amateur investigator, and centering on the events that would lead to her writing of her debut novel, an effort that would take six years beginning in 1872, ending with its publication in 1878.
"The Leavenworth Case is admirable. One savors its atmosphere, its studied and deliberate melodrama. Those rich and lavish descriptions of the golden beauty of Eleanor, the moonlight beauty of Mary!… and there is the maidservant, Hannah, so true to type, and the murderer, an excellent psychological study."
—Hercule Poirot in The Clocks by Agatha Christie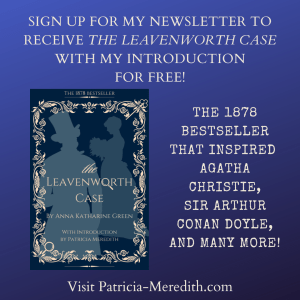 Can't make it to Spokane this weekend?
Subscribe to my YouTube channel to watch my playlists of
Be sure to hit subscribe while you're there so you'll be the first to hear when a new video is posted—new one every week!
Remember you can always purchase signed copies of all my books direct from me right here! Thank you for your support!