Why Spokane?
Why Spokane?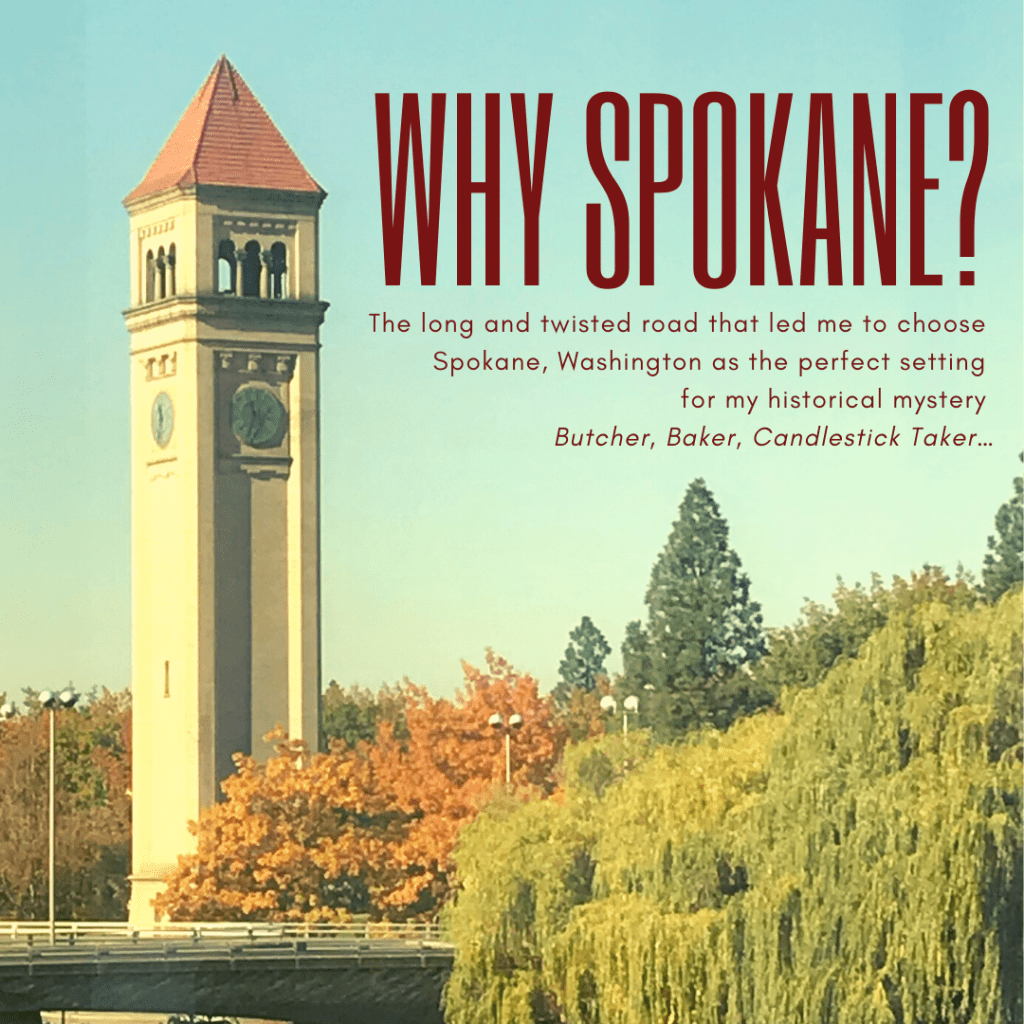 What made me choose Spokane, Washington as the setting of my historical mystery Butcher, Baker, Candlestick Taker?
Three things: people, locations, and events. Over the next several months leading up to my Big Book Announcement, I'm excited to tell you more about why Spokane, Washington, of all places, really needed a book set in its environs.
The very, very, very, very first draft of Butcher, Baker, Candlestick Taker was actually set in Wales, of all places. I was pregnant with my first kid, and after I'd nested and prepped till I was put on bed rest, I was left with only one choice: to finally write the novel I'd wanted to write since graduating from college with a BA in Creative Writing (Whitworth University, woot! woot!).
But where to begin?
I've always been a fan of mystery books, and an Agatha Christie Poirot or Dorothy L Sayers Lord Peter Wimsey mystery is my go-to comfort read. It finally occurred to me that maybe, just maybe I should try my hand at the mystery genre.
What came out was Butcher, Baker, Candlestick Taker —in Wales. Fast-forward five years, two kids, and three moves. In 2018, I finally returned to my story, and the first thing I realized: it needed a lot of work.
The biggest change that needed to happen was definitely the location.
I first discovered Spokane in college. I graduated from Whitworth University in 2008, and after marrying the man who is still the love of my life vowed we would never live in Spokane.
Well, as Archie Prescot attempts to say in BBCT, "Spokane has all the magnetism of a lodestone."
My story was always going to take place in 1901, because I was interested in that period where the era switched from Victorian to Edwardian, but I wasn't certain on location. It was when I learned that Spokane's iconic Great Northern depot clock tower still located in Riverfront Park was built starting in 1901 that I started to wonder if maybe there was something here…
One day, my husband, who's a born-and-raised Spokanite—a person from Spokane—suggested I visit the Campbell House, a house built in 1898 and restored to its glory days in 1910. I'll be honest, I went just to get some time to myself—I'm an introvert with two toddlers at home and one car to share with my working husband. What I found is, well, history.
The Campbell House and its informed docents were inspirational. It's like a living museum, with full-dress costumes only at Christmas. I wrote down everything they said, took pictures when I was allowed, and spent an hour in the converted carriage house looking at the carriage, electric car, and informational displays, panels, and videos.
I felt at once that this was just the beginning of something. I went to local bookstores and started asking if there were any historical mystery books set in Spokane around the turn of the century—nope. But everyone thought it was a good idea! "There should be! There's so much history here! Did you know Bing Crosby lived in Spokane? Or that President Roosevelt visited?"
I had my location.
Next came the research. I had no idea how much research was going to be required for a historical mystery. Originally I was going to change history, but then I realized in order to change history I'd still have to do all the research to decide how I was going to change it. And since most of the world knows nothing about Spokane—no offense—it wouldn't be like setting a story in New York City, Chicago, or Seattle.
And so I embarked on a research journey that would wind along avenues and into back alleys I could have never expected. Every day, I've fallen more in love with this town, its people, its buildings and parks, and its history.
The more I researched, the more I came to really appreciate the original history, and I knew I could play in it without changing it, perhaps with an even better outcome. I adore reading historical fiction novels, alternate history novels, and, my favorite, historical mystery novels. My favorite part is when you realize the author is playing with history, introducing cameos from real historical people, or sending their characters to real places you could visit even today. I can hardly stop from flipping to the back to where the author reveals "Here's the Real History."
Since one of the best pieces of advice I ever heard was "write what you want to read" (similar to the age-old advice of "write what you know"), that's what I decided to do. Quickly I replaced my made-up coroner for the real one in Spokane in 1901, and my lawyer with a real patent lawyer from that time period. I'd already sent my characters to real locations, but I moved a couple of their homes to locations where enthusiastic readers might go for a walk to pass houses similar to theirs.
The Campbell House will have to wait for its appearance in the sequel, and you'll have to wait to read about it till then, but I promise you'll be able to walk the route of the murderer, peer down to where the victim is discovered, and walk through the halls of the Campbell House should you so desire a visit to Spokane.
I am eternally grateful my husband once asked, "What if you moved your murder mystery to Spokane?" I will never forget how I laughed and struggled against the truth, that this story's main character is and always will be Spokane, Washington.