Historical Characters in Butcher, Baker, Candlestick Taker
Historical Characters in Butcher, Baker, Candlestick Taker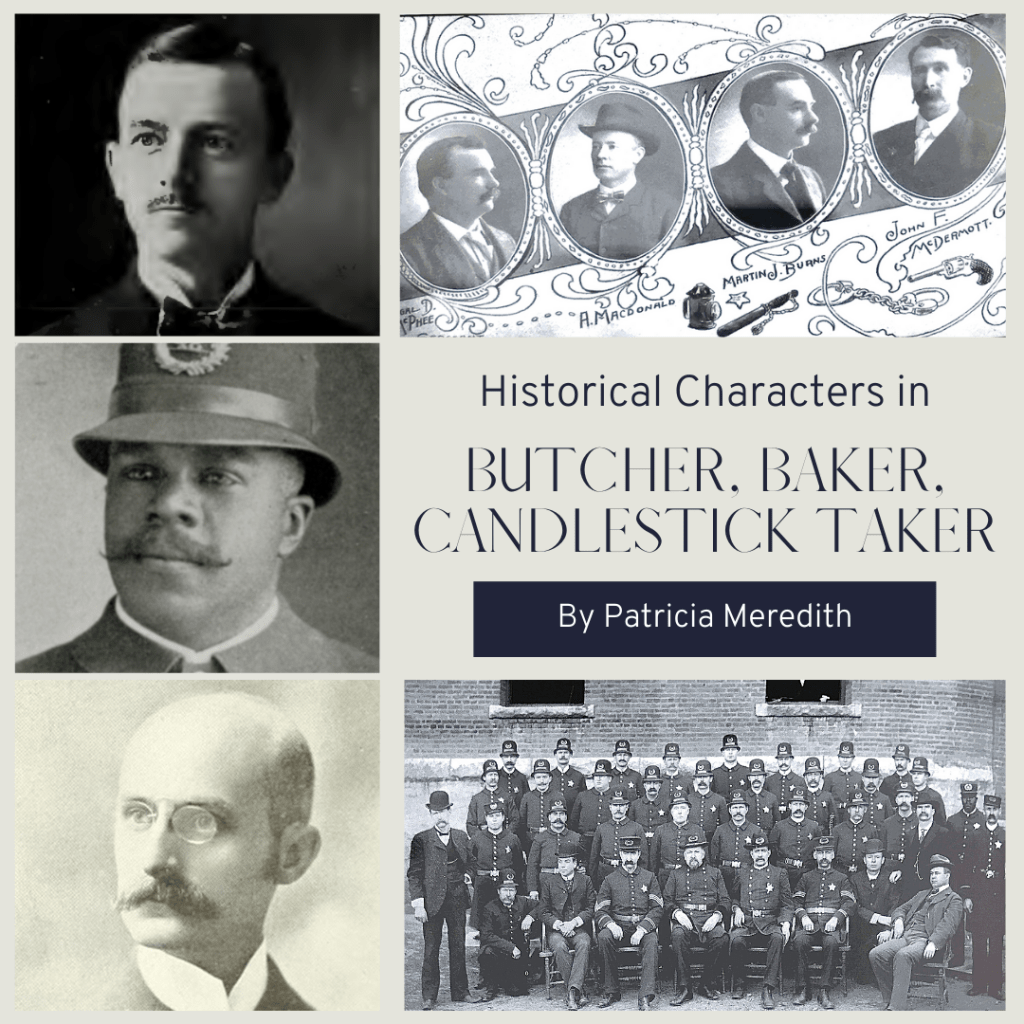 One of my favorite parts of writing historical fiction is getting the chance to set a story where my characters can have chance encounters with real people from history.
In my book Butcher, Baker, Candlestick Taker, although I've invented all the primary characters, I've sprinkled the story with cameos from some of the most well-known, and many unknown, names from Spokane's history.
If you've got any interest at all in Spokane's history, you've probably heard of Amasa Campbell, Kirtland Cutter, Dutch Jake, and William Shannon. You may have even heard these names: Walter Lawson, Martin Burns, William Witherspoon, and Patrick Byrne.
But have you ever heard of Coroner Nathan Baker or patent lawyer LL Westfall?
All of these names and more feature in my historical mystery, Butcher, Baker, Candlestick Taker. I've attempted to breathe life into these historical figures by incorporating them into a murder plot that's complete fiction, though greatly inspired by real events from Spokane's history.
Over the next couple months, I'll be sharing more about what characters, locations, and events are real in my book. Although I'll be introducing the characters I created for the book later, I'd like to take a moment to highlight a few of the real historical figures who play a part in the story.
Butcher, Baker, Candlestick Taker is set in Spokane 1901. I wanted to stay as true to real history as possible, and after some careful digging, I found wonderful images like this one so that I could describe the people my characters work with accurately, which makes it all the more fun!
Check out this dashing group of gents, many of whom are included in my book:
When it comes to the Spokane Police Department, I attempted to only create two new characters: Bernard and Thomas Carew. Everyone else is a real person from history, thanks to the hard work done before me on the book Life Behind the Badge: The Spokane Police Department's Founding Years, 1881-1903 by Suzanne and Tony Bamonte with the Spokane Police Department History Book Committee.
I am especially grateful to one of my beta readers, Susan Walker, who is the Regional Law Enforcement Museum Secretary. She helped me get hands-on with my research for the police department and helped me ensure I offered an accurate representation of these men in blue.
We'll begin with William W. Witherspoon, who was the 9th Chief of Police beginning July 12, 1899. Before becoming chief, he had no law enforcement experience and was the line superintendent for the City Water Works Department. He had actually helped launch the volunteer fire department back in 1894. He was married to Isabel Grant of Scotland and had five children (History of Spokane County). Chief Witherspoon is listed in Polk's City Directory for Spokane 1901 as follows:
Witherspoon Wm W, Chief of Police, 1st Floor City Hall, res 1813 Mallon Av, Tel Main 712.
The other detectives named in the text, Dougald McPhee, Alexander MacDonald, John McDermott, and Martin Burns, are the documented detectives serving Spokane in early 1901. They're listed in Polk's City Directory for Spokane 1901 as follows:
McPhee, Dougald D, detective police dept, res 1411 Maxwell

MacDonald, Alexander, detective city police dept, res 1103 4th

McDermott, John F, city detective, res 419 3d ave

Burns, Martin J, policeman, rms Delaware blk [in Life Behind the Badge he's photographed as a detective in October 1901, but in the City Directory he's still listed as a Regular Patrolman]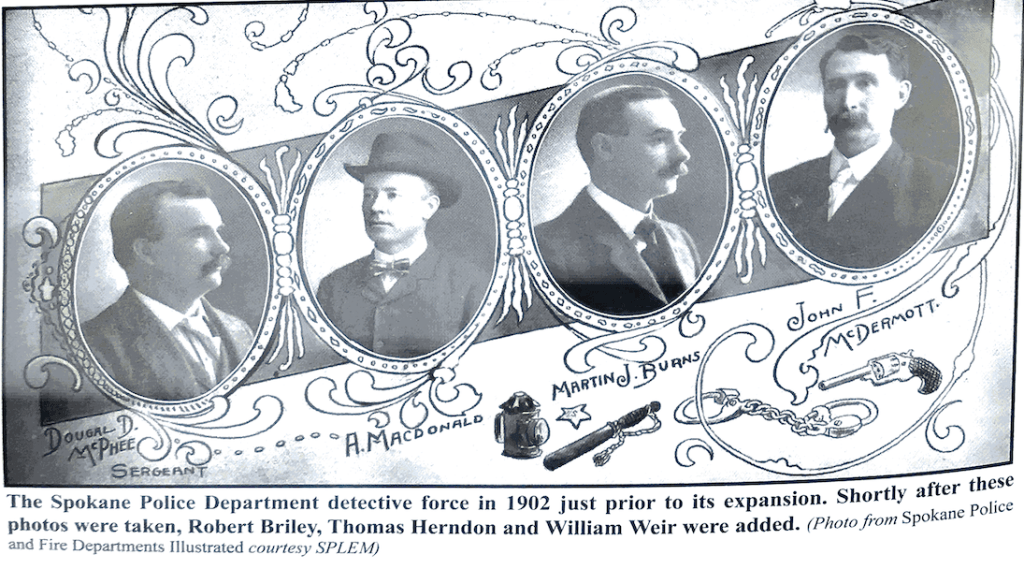 The desk sergeant, George Hollway, the patrol wagon driver, Walter Lawson, officer William Shannon, and Captain James Coverly are also real historical figures mentioned in my book. If you'd like to read more about Lawson, one of the first black police officer in Spokane, I recommend you read Logan Camporeale's fabulous article at The Local History or his listing at Fairmount Memorial.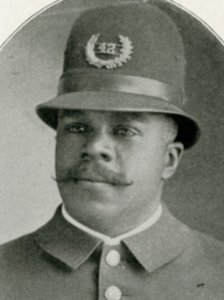 Outside the police force, I threw a few other real people into the paths of my creations, including Coroner Nathan M. Baker and Patent Lawyer L. L. Westfall. Both of these gentlemen are listed in the wonderful historical resource History of Spokane County by Edwards, which was published in 1900. You can find it online at archive.org or check it out from the Spokane Public Library.
Coroner Baker worked in the Hyde Block of downtown Spokane. He was a Presbyterian from Minnesota, who in 1898 was elected coroner. He was married to Minnie Bloom, and together they had two children, who are described as being "born on the day of the Doctor's election to the office of coroner" (History of Spokane County).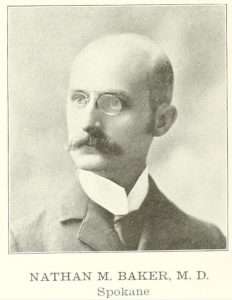 Westfall was listed in the Polk's City Directory for Spokane 1901 as "Westfall, LL, patent attorney, 13-14 Fernwell Bldg." According to History of Spokane, he was also a Presbyterian and was born in Illinois in 1865. He was a "self-made man…earned his own education and worked his own way unaided in the world, until he has gained a rank among the leading lawyers of the city and all lovers of self-reliant industry and courage will glory in his success" (History of Spokane County). He was married to Adelaide Mickel of Iowa in 1890 and had two children, Elbert and Ethel (I couldn't make this stuff up, haha).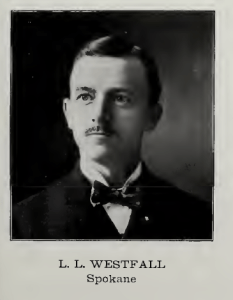 If you enjoy Spokane history, or if you'd never heard of the town until today but enjoy reading historical mysteries with cameos from real characters from history, I hope you'll keep an eye out for the publication of Butcher, Baker, Candlestick Taker, coming your way later this year!
Be sure to follow me at Goodreads, Instagram, Facebook, and/or join my newsletter here to stay up to date on the latest announcements! Thanks for reading!