Home Health Quotes from 19th Century Cookbooks
Home Health Quotes from 19th Century Cookbooks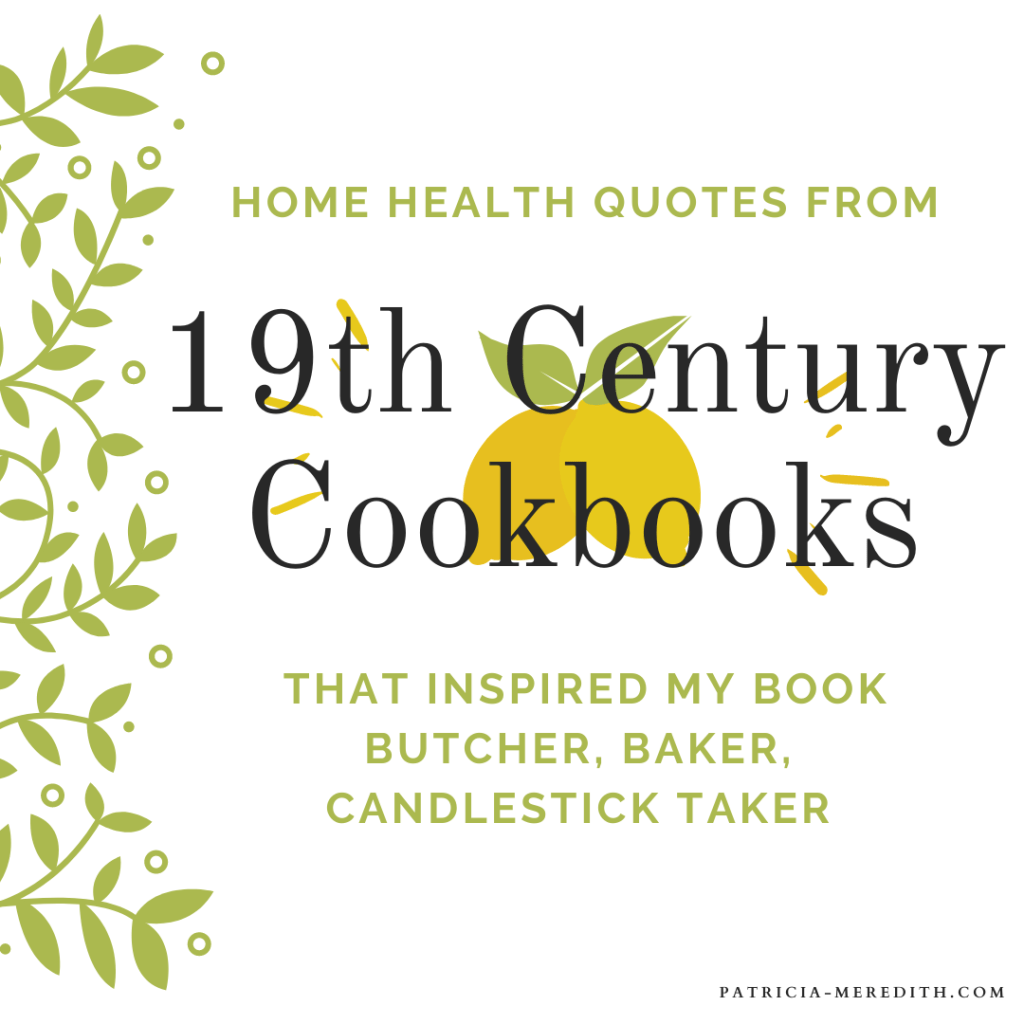 Over the past two weeks, I've shared some of the cooking and cleaning quotes from 19th century cookbooks that inspired my book, Butcher, Baker, Candlestick Taker, and in particular the characters of Mrs. Curry (cook) and Eleanor Sigmund (maid).
But cookbooks of the time didn't contain just cooking and cleaning tips. They also included home health remedies—the sorts of things you'd find classified under "natural" or "homeopathic" on Pinterest these days.
I've shared some of my favorite home health quotes below in a slideshow taken from a presentation I used to give at local libraries. Just click on the arrows to either side and you should be taken to the next slide. 🙂
The third slide always makes me laugh: earwax??!! Can't say I've tried this, but it does make you wonder! I actually had someone at one of my presentations say they've done something similar before: they put earwax behind their ears to cure earache! Something their mother taught them!
The sixth slide, a quote from Fannie Farmer's Boston Cooking-School Cookbook (1896), inspired a scene in my book: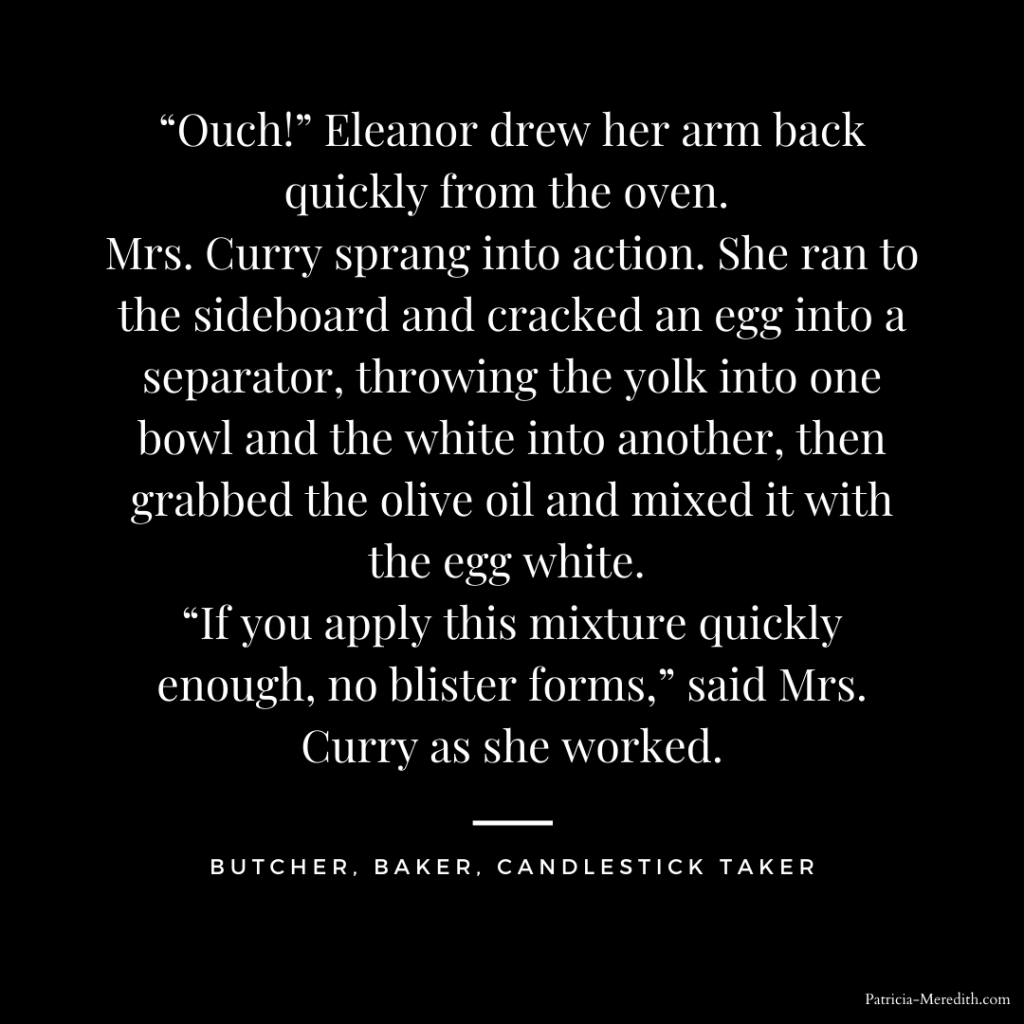 To finish, every cookbook usually included such helpful things for the future writer like this passage detailing "How to Build a Fire" from Fannie Farmer's Boston Cooking-School Cookbook (1896): "Before starting to build a fire, free the grate from ashes. To do this, put on covers, close front and back dampers, and open oven-damper; turn grate, and ashes will fall into the ash receiver. If these rules are not followed, ashes will fly over the room. Turn grate back into place, remove the covers over fire-box, and cover grate with pieces of paper(twisted in centre and left loose at the ends). Cover paper with small sticks, or pieces of pine wood, being sure that the wood reaches the ends of fire-box, and so arranged that it will admit air. Over pine wood arrange hard wood; then sprinkle with two shovelfuls of coal. Put on covers, open closed dampers, strike a match,–sufficient friction is formed to burn the phosphorus, this in turn lights the sulphur, and the sulphur the wood,–then apply the lighted match under the grate, and you have a fire."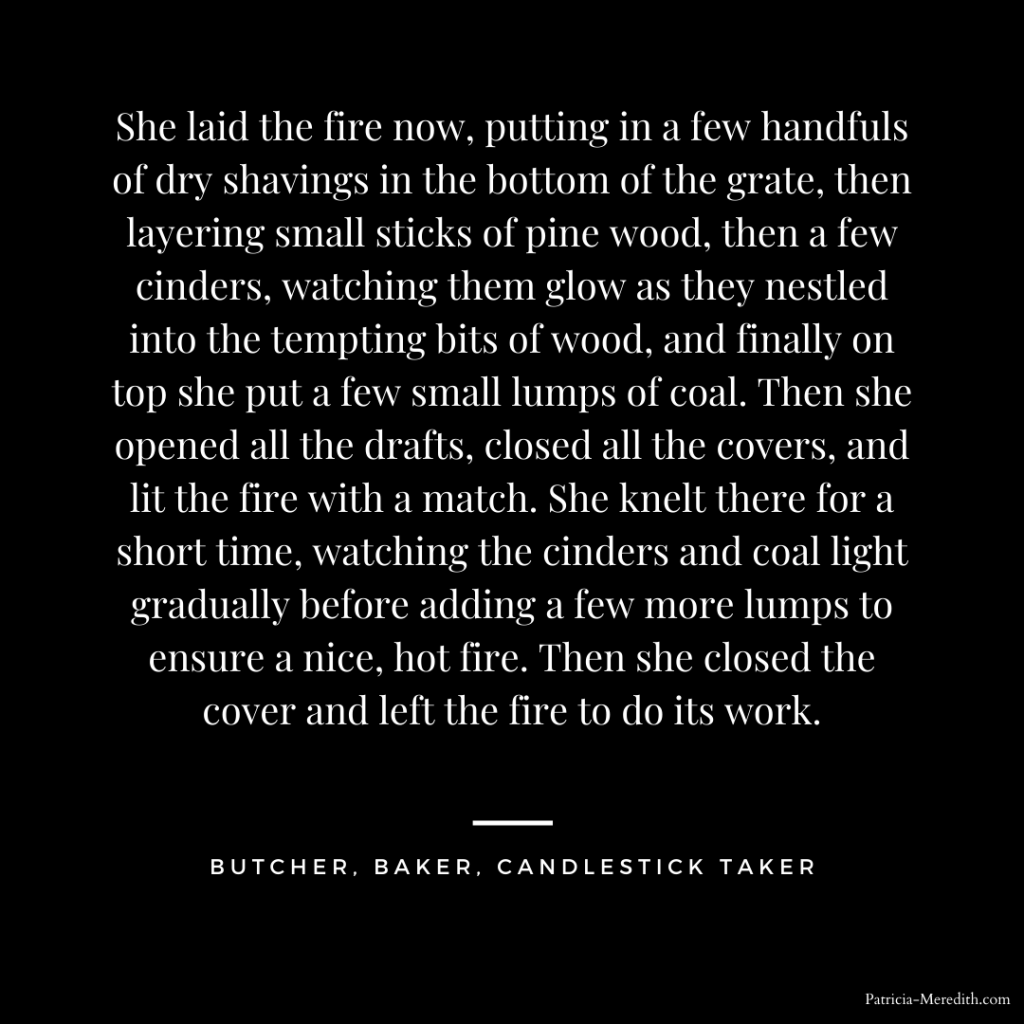 You can learn more about my historical mystery, Butcher, Baker, Candlestick Taker, here. Be sure to add the book to your Goodreads Want to Read List so you'll know when I reveal the cover and the book is available for pre-order! You can also follow me on Instagram, Facebook, or sign up for my newsletter for all the latest updates!
Thank you for reading!
For a wonderful collection of archived cookbooks from throughout the centuries, check out: https://digital.lib.msu.edu/projects/cookbooks/html/browse_date.cfm
A Feast of Good Things, Prepared by the Ladies of First Presbyterian Church of Spokane, WA, Published 1895 (Pictures my own, taken with permission by the Ferris Archives.)
The American Frugal Housewife, by Mrs. Lydia Maria Child, Published 1841 https://d.lib.msu.edu/fa/33#page/8/mode/2up
The American Weekly's Cookbook, by Isabel Gordon Curtis, Published 1909 (Pictures my own, taken with permission by the Ferris Archives.)
Epicurean Cookbook, Published 1894 https://d.lib.msu.edu/fa/26#page/1/mode/2up
Fannie Farmer's Boston Cooking School Cookbook, Published 1896 https://d.lib.msu.edu/fa/8#page/2/mode/2up
The First Presbyterian Cook Book, Prepared by the Ladies of First Presbyterian Church of Spokane, WA, Published 1906 or 1907 (Pictures my own, taken with permission by the Ferris Archives.)
The Home Cook Book, Published 1877 (Pictures my own, taken with permission by the Ferris Archives.)
Mrs. Rorer's New Cook Book, Published 1902, Originally published in 1886 https://d.lib.msu.edu/fa/63#page/1/mode/2up
Practical American Cookery and Household Management, by Julie Corson, Published 1886 https://d.lib.msu.edu/fa/58#page/1/mode/2up
The Settlement Cookbook, by Mrs. Simon Kander, Published 1901 https://d.lib.msu.edu/fa/66#page/1/mode/2up
Woman Suffrage Cook Book, by Hattie A. Burr, Published 1886 https://d.lib.msu.edu/fa/74#page/6/mode/2up