Character List for Butcher, Baker, Candlestick Taker
Character List for Butcher, Baker, Candlestick Taker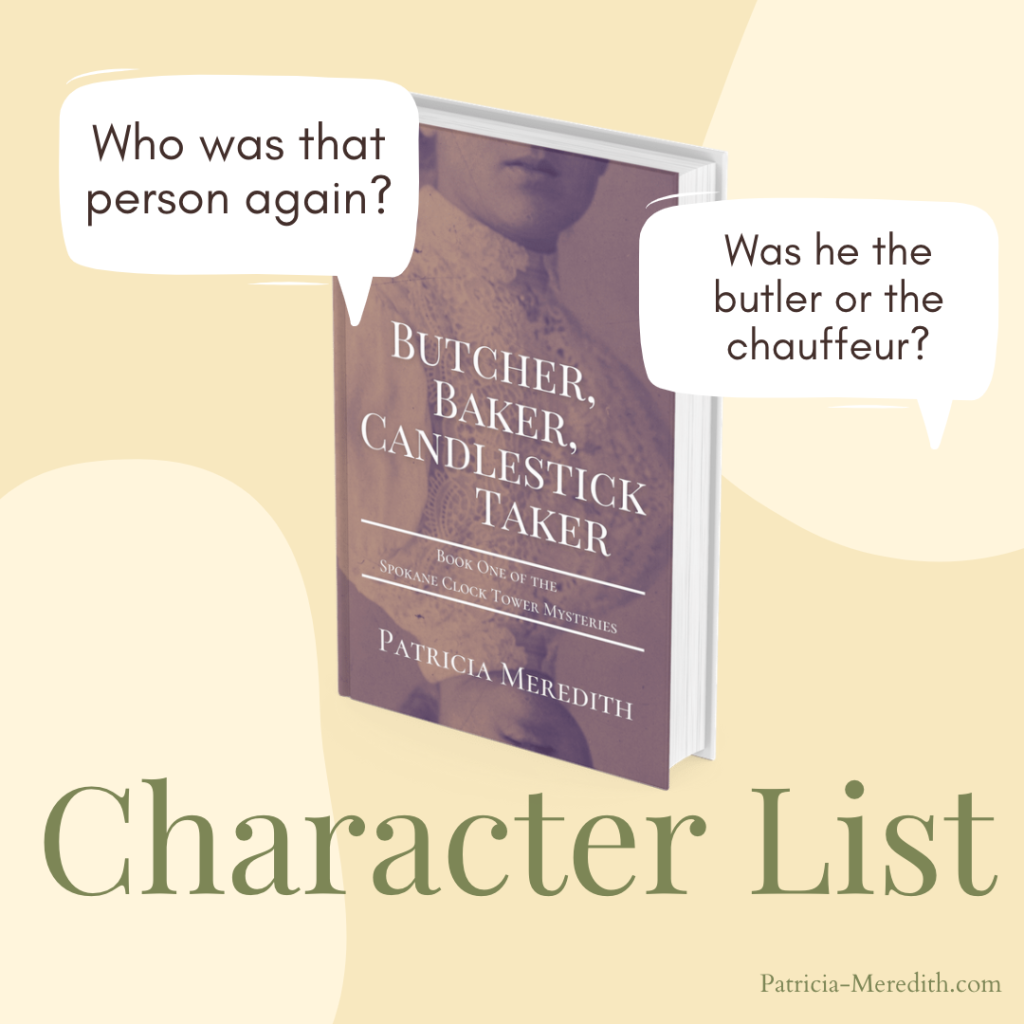 Do you remember when Downton Abbey first aired and nobody could keep all the characters straight? Was he the butler or the footman? Whose mother is she? Who was Daisy again? And yet, three episodes in and we were all hooked and so invested in the characters it seemed amazing to us that we had once been unable to recall how exactly Matthew Crawley was related to the Earl of Grantham.
Although every author strives to ensure each of their characters is unique and that readers never, ever, ever forget what they look like, even the most dedicated reader can sometimes wish they had a cheat sheet to help them keep everyone straight—especially if they have to take a break in reading because life happens and time passes before they can resume reading (or listening to the audiobook).
I know, heaven-forbid life gets in the way of our reading, but if it should while reading Butcher, Baker, Candlestick Taker, I wanted to offer you a quick and easy way to reassociate yourself with the characters.
This list could also be helpful in facilitating the discussion of BBCT at a book club get-together! In fact, this idea was suggested to me at a book club I recently had the honor of attending, so thank you for inviting me and suggesting the idea!
Point of View (POV) Characters
In order of appearance
Bernard Carew
The newest detective in the Spokane Police, Bernard is eager to prove himself to his fellow detectives by taking on a case other than burglary. He lives with his wife Roslyn, his twin brother Thomas, and Mr. Prescot is currently lodging with them. He is a tall, large man of Welsh-Italian heritage, with a heavy black mustache and matching eyebrows.
The Red Rogue
A mysterious thief breaking into homes all across Spokane…with a penchant for candlesticks.
Archie Prescot
Almost thirty, Archie has traveled all the way from Connecticut to design the clock for the new Great Northern Railroad Depot. While in Spokane, he is lodging with the Carews. In his off-time, he creates inventions in the field of sound theory. He is pear-shaped with large glasses he constantly is pushing back up his nose, above an attempt at a mustache. He also has a tendency to speak in malapropisms—using the wrong word in the wrong place.
Marian Kenyon
A young red-haired woman born and raised in Spokane who's spent the last five years in Seattle where she worked as a photographer. Marian has recently returned to close up the house of the woman who raised her, her dear grandmother, Nain.
Eleanor Sigmund
A maid-of-all-work for Miss Mitchell up on the South Hill. Eleanor is in her forties and married to Cecil Sigmund, who also works for Miss Mitchell. Together they live above the carriage house.
Thomas Carew
The twin brother of Bernard Carew, Thomas makes a point of looking different by keeping his face clean-shaven. Always to be found with either food or a quip upon his lips, he is an officer in the Spokane Police like his brother.
Side Characters
Gladys Mitchell
A local patroness of the sciences, she lives in a large house at the very edge of town. She is an elegant woman with long brown hair who likes to turn men's heads.
Mrs. Curry
Miss Mitchell's cook, she has chestnut-brown curls streaked with gray, and hazel eyes that can guess your favorite food just by looking at you.
Reginald Jennings
Miss Mitchell's butler, a tall man with a prodigious nose, down the length of which he is fond of looking.
Cecil Sigmund
Groundskeeper and chauffeur to Miss Mitchell and husband of Eleanor, he has orange hair and a smile like a tabby cat's.
Hayate Matsumoto
A blind Japanese blacksmith currently working under the patronage of Miss Mitchell on technological advancements using sound.
Historical Characters
Chief of Police William W. Witherspoon
Detectives Dougald McPhee, Alexander MacDonald, John McDermott, and Martin Burns
Desk Sergeant George Hollway
Patrol Wagon Driver Walter Lawson
Officer William Shannon
Captain James Coverly
Coroner Nathan M. Baker
Patent Lawyer L.L. Westfall
[To learn more about these particular characters, please head over to my blog about the Historical Characters in Butcher, Baker, Candlestick Taker.]
And there you have it! Feel free to copy and paste this list into a document for yourself or bookmark this page for use later. I'll be offering a similar thing for future books as the list of the characters in this historical fiction "world" lengthens!
If you don't need this list now, you might find you want it when you read the sequel, Cupboards All Bared, releasing May 2022! If you want to be the first to hear about the cover reveal for the sequel, be sure to sign up for my newsletter! You'll also receive my latest short story, "Murder for a Jar of Red Rum," by signing up.
You can find me on Facebook, Instagram, YouTube, or Goodreads—while you're over there, be sure to follow my author profile and add Butcher, Baker, Candlestick Taker to your Want to Read List. Following an author ensures you'll be the first to hear when a new book is released or a giveaway is happening!
Thank you so much for reading!