Cupboards All Bared Release Day!
Cupboards All Bared Release Day!
It's here! Trumpets sound! *And there was much rejoicing!*
That's right, Cupboards All Bared, Book 2 in the Spokane Clock Tower Mysteries, is NOW AVAILABLE!
"Murder, con games, and assassination in 1901 Washington state with the President's life on the line. Ms. Meredith writes another taut and tightly plotted thriller in the Spokane Clock Tower series, one not to be missed!"

— New York Times bestselling author William H Keith
In this sequel to Butcher, Baker, Candlestick Taker, we're once again transported to Spokane, 1901. A body discovered in Hangman Creek looks to be the result of an accidental fall, but what begins as a "simple" mystery for Thomas Carew and his twin brother Bernard quickly becomes a lot more complicated, including implications that tie in with the bombings at the Idaho mines, and perhaps even President McKinley's planned visit.
It's been one month since the events of the first book, and readers will enjoy engaging once again with the full cast of quirky characters, from Marian and Archie to Thomas and Bernard, with a couple new faces thrown in. Those familiar with Spokane will love the entangled web that takes them from Hangman Creek to the Campbell House and the Montvale, ensuring that this story couldn't be set anywhere but our beloved Spokane.
Cupboards All Bared is Book 2 in the Spokane Clock Tower Mysteries.
Today I wanted to share a final article published in The Spokesman-Review the day the book opens in 1901, which is referenced in the opening pages.
Today is May 17, 1901…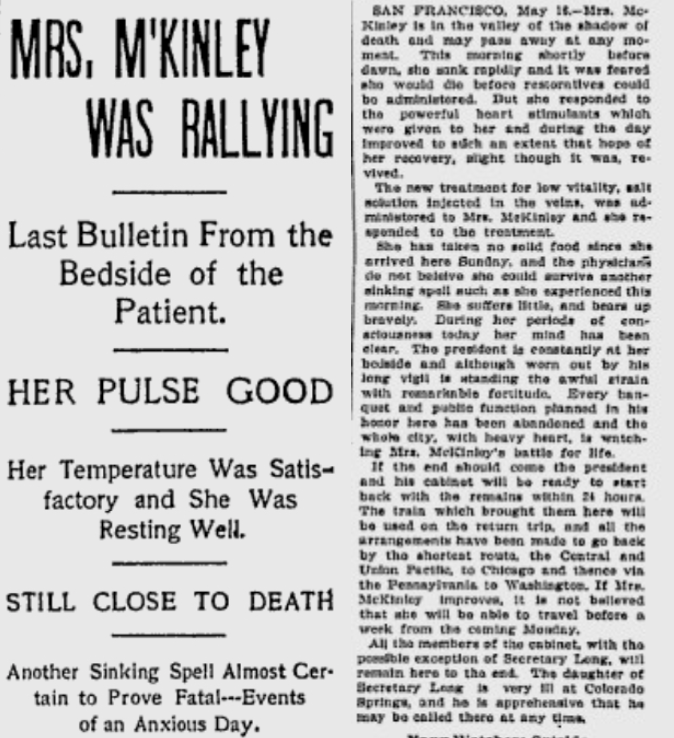 I'm sorry the quality on these articles is terrible. Unfortunately, my usual source for the newspapers at this time removed May 17-19. Apparently, my version of history just trumped it, I guess!
Read all about it in Cupboards All Bared!
Where to Buy
Cupboards All Bared is available in all formats wherever books are sold! 
Click the image above to find it in your favorite format, or request it today from your local bookstore!
Check it out from your local library, or if they don't have it, request it! Remember, you're still supporting your favorite authors by supporting your local library!
Join me for my Book Launch Dessert Tea!
Join me for a dessert tea in celebration of the release of Cupboards All Bared, Book 2 in the Spokane Clock Tower Mysteries!
Enjoy tea and scones during a reading and Q&A! I'll be sharing more about the writing and research behind the newest book in the Spokane Clock Tower Mysteries.
Copies of Books 1 and 2 will be available for purchase at a special discount, or bring your personal copy for me to sign! There will also be games and prizes!
This event will include an endless teapot with your choice of tea, one dessert, two mini scones, and fruit for just $20 (tax and gratuity included)! RSVP with payment here now to hold your place.
Thank you and I look forward to seeing you there!
The first book, Butcher, Baker, Candlestick Taker , is available in print, ebook, and audiobook; you can also request it through your local library! And NOW the sequel, Cupboards All Bared, is available, too!
To learn more about my writing and books, search my website. You can also follow me on Facebook, Instagram, YouTube, or Goodreads—while you're over there, be sure to follow my author profile and add Butcher, Baker, Candlestick Taker and Cupboards All Bared to your Want to Read List. Following an author ensures you'll be the first to hear when a new book is released (coming soon!) or a giveaway is happening!
Support My Writing and the Book
Want a cool book tote, mug, magnet, or more and also support your new favorite author? Check out my Zazzle shop!
It would be absolutely amazing to me if you'd consider buying an item or two. Then, when someone asks you about it, you can tell them about my book and send them my way!
"Because the point of all this…is to write more books!"

—My paraphrase of a line from my favorite movie: That Thing You Do!
Remember: Sign up for my newsletter to receive my newest blogs delivered straight to your inbox. You'll receive my latest short story, "Murder for a Jar of Red Rum," for free for signing up!
Thank you, thank you, THANK YOU for your support! Without you there would be no book!
I can't wait to hear what you think of Cupboards All Bared!!!