Cupboards All Bared Release Day Reading
Cupboards All Bared Release Day Reading
In celebration of today's release of Cupboards All Bared, Book Two in the Spokane Clock Tower Mysteries, I wanted to share a reading with you! Watch it here or over on YouTube and be sure to subscribe to my channel to be notified when I post new videos!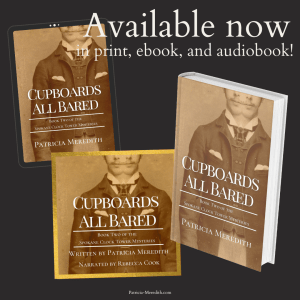 Cupboards All Bared is available in all formats wherever books are sold!
Click the image above to find it in your favorite format, or request it today from your local bookstore!
Check it out from your local library, or if they don't have it, request it! Remember, you're still supporting your favorite authors by supporting your local library!
Remember: Sign up for my newsletter to receive my newest blogs delivered straight to your inbox. You'll receive my latest short story, "Murder for a Jar of Red Rum," for free for signing up!
Thank you, thank you, THANK YOU for your support! Without you there would be no book!
I can't wait to hear what you think of Cupboards All Bared!!!