Indie Books in Bookstores
Indie Books in Bookstores
Did you know my husband, Andrew D Meredith, writes in the fantasy genre? His first book, Thrice, a Slavic fantasy, is about a man and his boy on the road: think Mandalorian set in a Slavic mythos.
I had the honor of joining him in an interview with author Katherine D Graham about Getting Indie Books into Bookstores!
From the YouTube description:
Whether you're a reader who loves indie books and wishes your local stores stocked more of them, or a self-published author wondering if it's even possible to accomplish such a feat, today's special Indie Author Behind-the-Scenes episode is here to talk about this 'golden egg' of publishing: how to get an indie book into a brick-and-mortar bookstore. Join me as I speak live with special guests Patricia Meredith and Andrew D. Meredith, both of whom are indie authors whose books have been placed in brick-and-mortar bookstores! We'll talk about whether or not they needed 'connections' to secure spots for their books, costs, results, and more, as well as answer any questions you may have live. To check out Patricia Meredith's work, click here: https://linktr.ee/pmeredithauthor To check out Andrew D. Meredith's work, click here: https://linktr.ee/andrewdmth
Thank you again, Katherine, for having us!
It was such a good conversation! 
Cupboards All Bared, Book 2 in the Spokane Clock Tower Mysteries, is NOW AVAILABLE in all formats wherever books are sold!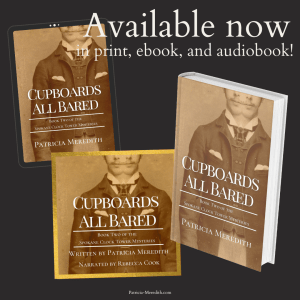 Click the image above to find it in your favorite format, or request it today from your local bookstore!
Check it out from your local library, or if they don't have it, request it! Remember, you're still supporting your favorite authors by supporting your local library!
Sign up for my newsletter to receive my newest blogs delivered straight to your inbox. You'll receive my latest short story, "Murder for a Jar of Red Rum," for free for signing up!