Crazy Maids in a Row Release Day
Crazy Maids in a Row Release Day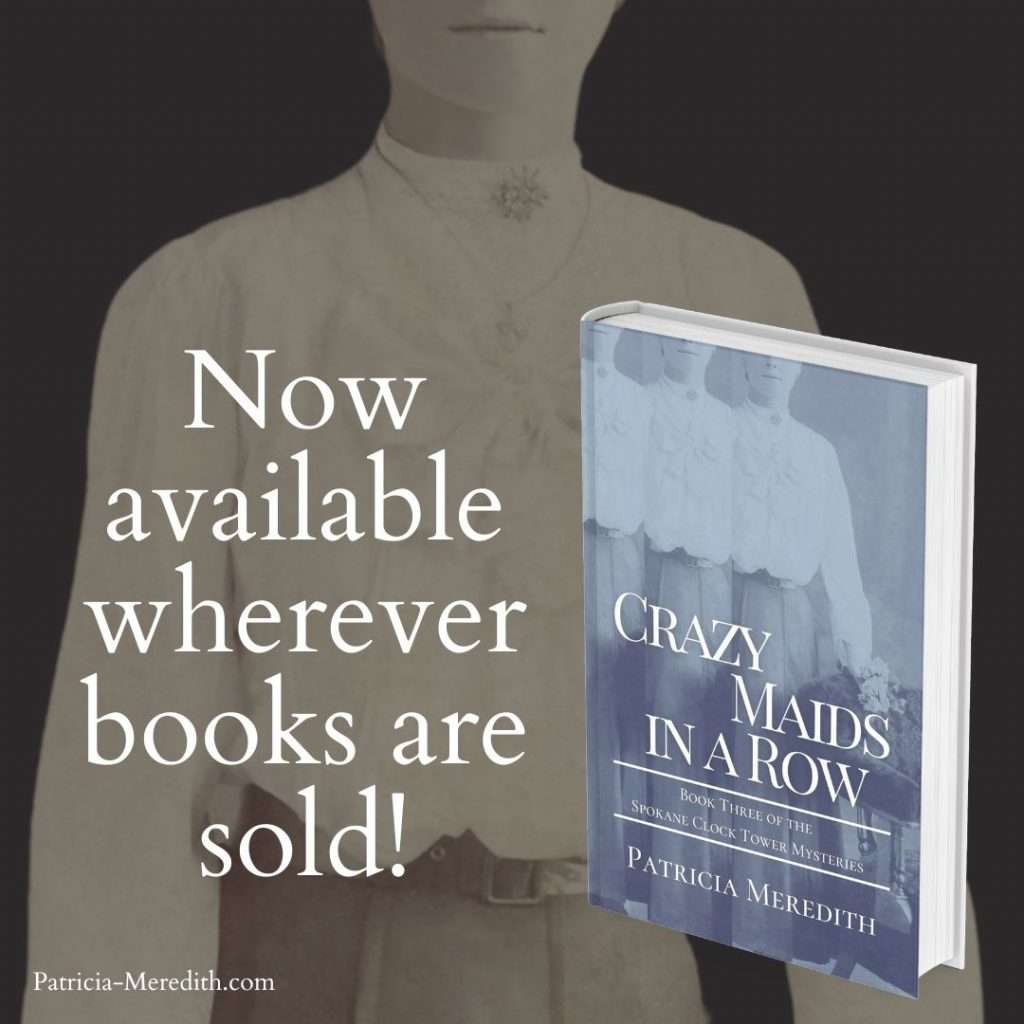 I can't believe it's here already! Book 3 in the Spokane Clock Tower Mysteries is NOW AVAILABLE! Find it wherever books are sold!
"Her books are a high that no drug can match."

— @purposeofabook, Bookstagram Reviewer
"Page-turning addicting!"

— @thegingermorticia, Bookstagram Reviewer
"All the Agatha Christie vibes I could want.…"

— @bibliobrunette, Bookstagram Reviewer
The insane belong in the asylum. But what if the insane are the only ones who can help you?
The Baker is in the Medical Lake asylum, which means all should be well with the world. But when a string of murders draws Marian, Archie, and the Carew brothers to her doorstep, they begin to wonder if she's at it again…
Crazy Maids in a Row is Book 3 in the Spokane Clock Tower Mysteries. NOW AVAILABLE!
Be sure to read Books 1 & 2 before diving into Book 3.
The research behind this book was rather intense, but don't worry, I'll be posting all of it over the next few months so you can dive in deep!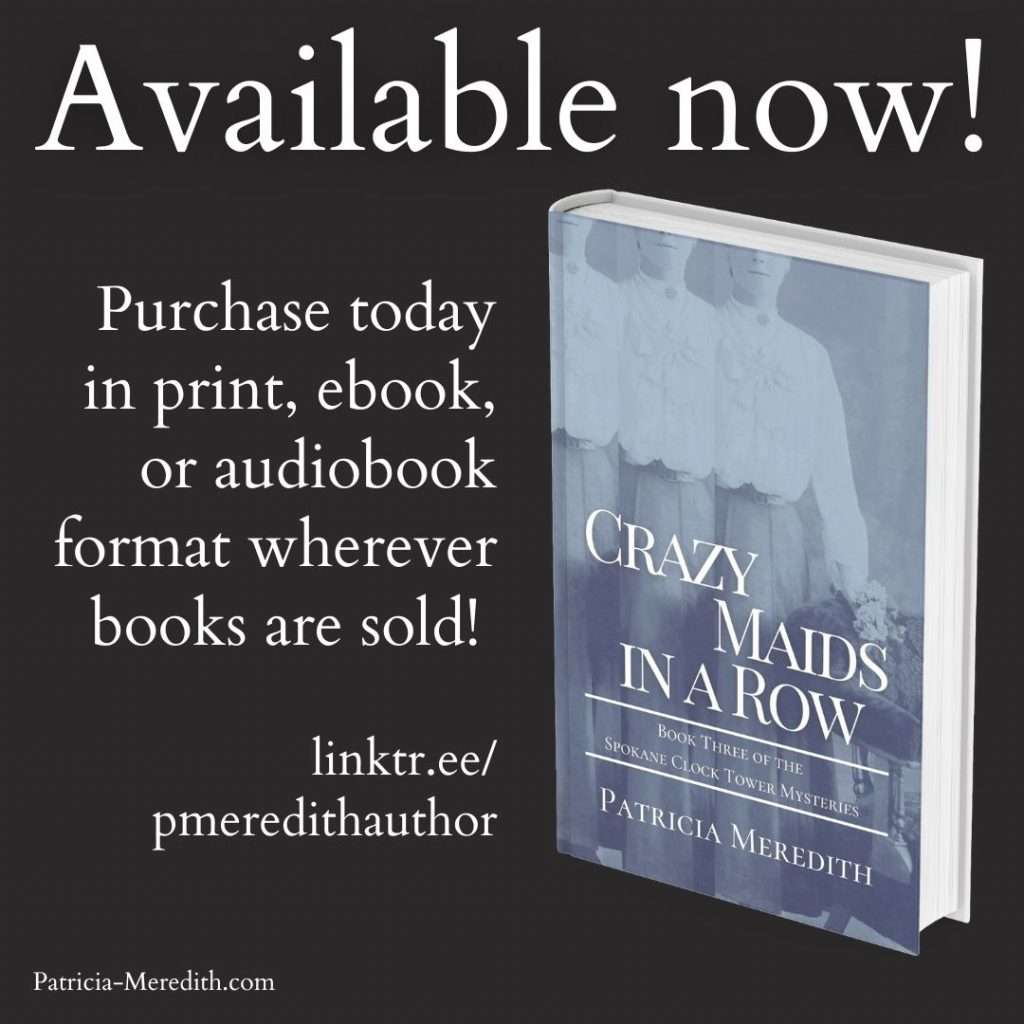 Print
ISBN: 978-1-0879-7202-2
Support local! Buy from your favorite independent bookstore:
Ebook
Audiobook
ISBN: 9798822602373
Libro.fm (support local!)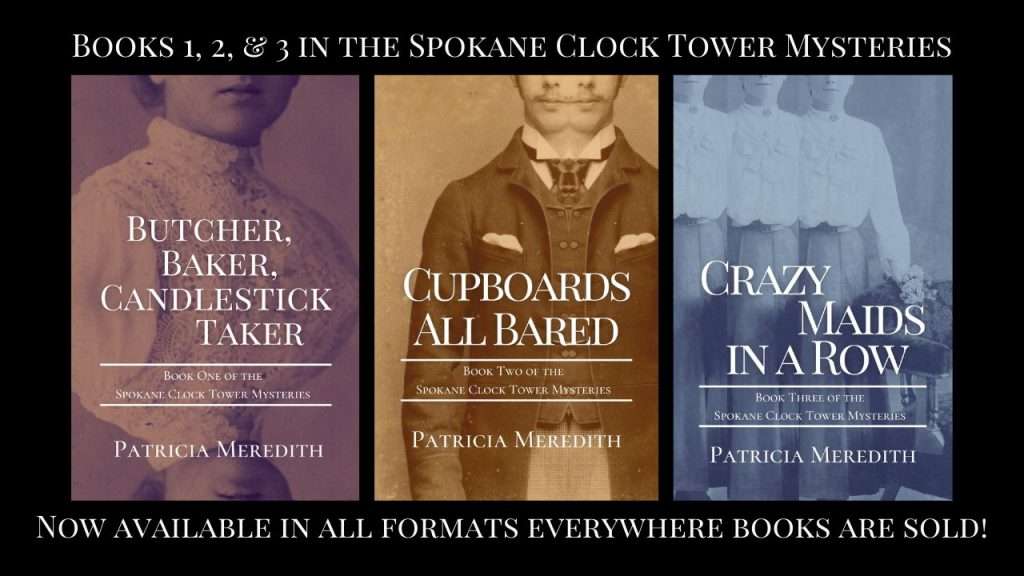 The first book, Butcher, Baker, Candlestick Taker , is available in print, ebook, and audiobook; you can also request it through your local library! The sequel, Cupboards All Bared, is also available!
To learn more about my writing and books, search my website. You can also follow me on Facebook, Instagram, YouTube, or Goodreads—while you're over there, be sure to follow my author profile and add Butcher, Baker, Candlestick Taker and Cupboards All Bared to your Want to Read List. Following an author ensures you'll be the first to hear when a new book is released (coming soon!) or a giveaway is happening!