Lemon-Rosemary Muffins
Lemon-Rosemary Muffins
"So," Thomas began, "any sign of your husband, Mrs. Sigmund? Just cream, please," he said in response to the proffered additives, helping himself to a muffin—yes, definitely lemon but with a sprinkling of rosemary. He was beginning to wonder if Mrs. Curry had been his mother in another life.
"No, sir," the maid said softly, avoiding his eyes.
"I see. And you still maintain you don't know where he's snuck off to?" Lemon crumbles fell from his lips. He used his fingertip to pick them up again, emphatic he wouldn't be letting one morsel go to waste.…
He sighed as he finished his muffin and reached for a second one, bumping hands with Prescot as he did the same. Prescot shifted in his seat beside him and looked apologetic, but Thomas didn't see any problem with showing Mrs. Curry their gratitude for her skills, so he grabbed another one with an encouraging smile in the clockmaker's direction.
—Butcher, Baker, Candlestick Taker by Patricia Meredith
---
Today I'm so excited to share with you my recipe for Mrs. Curry's Lemon-Rosemary Muffins—one of my favorite treats to make for tea, breakfast, or any old time!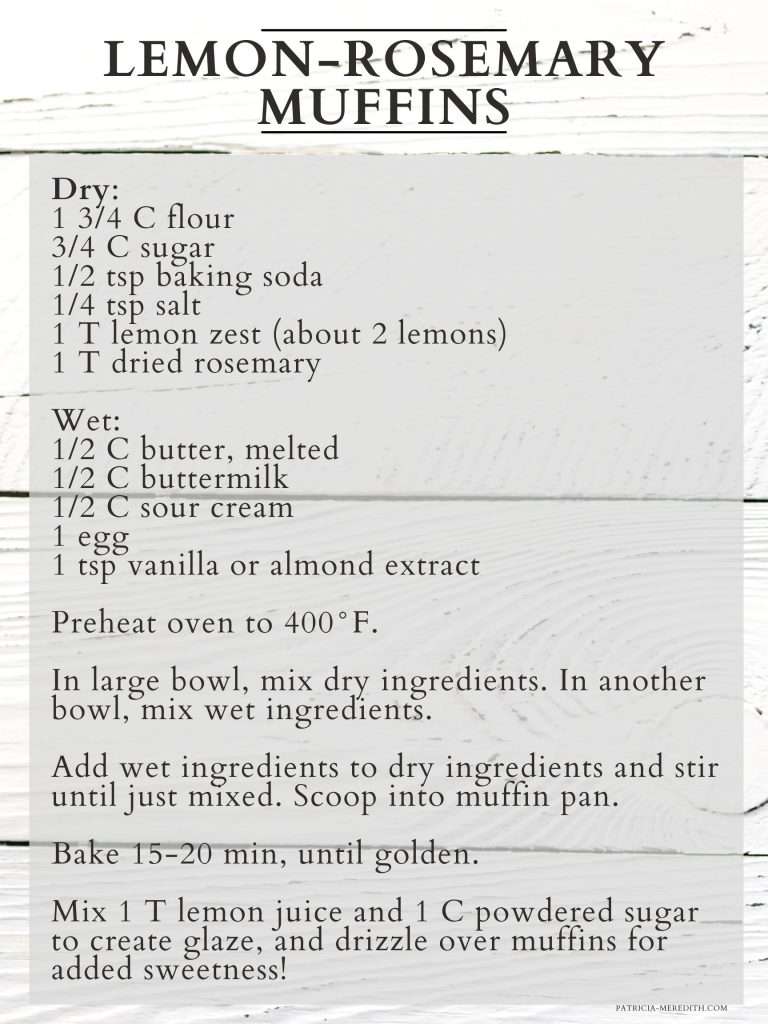 Tricks from the 19th Century
Did they even have sour cream and buttermilk in the 19th century? They sure did! At least, according to the cookbooks I've collected, I've certainly found it listed among the used ingredients for recipes multiple times.
Don't have sour cream? Don't have buttermilk?
You can replace both easily by mixing 1 cup milk with 1 tablespoon lemon and letting it sit for 10 minutes before incorporating it into your muffin mix.
If you don't have sour cream but you do have yogurt, that's another great substitute!
Catch us baking this recipe LIVE on YouTube!
I'll be joined by Booktuber Amy Marie, who's been devouring the Spokane Clock Tower Mysteries and raving about them on her channel!
Head to YouTube and subscribe to both of our channels, and be sure to hit that notification bell for when we go LIVE on Saturday, January 28, at 12:00 MST!