Sanborn Maps of Spokane circa 1901
Sanborn Maps of Spokane circa 1901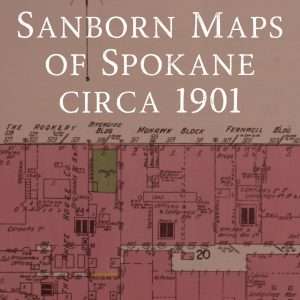 One of my main sources for researching locations in 1901 Spokane has become Sanborn Maps.
Sanborn maps are fire insurance maps, created to show where buildings existed in a city for safety reasons, including where the water mains ran and where the nearest station is.
Like most maps of Spokane around my time period, I have yet to find one from exactly 1901, or even 1900. However, I've been able to locate Sanborn Maps of Spokane from 1902, which are a very fair representation of the city from 1901, since they were most likely made in 1902 to reflect the buildings that existed in 1901. (Much like the Polk's City Directory, where I use the 1902 edition for the same reason.)
Thankfully, these are in the public domain now, and not only that, some of them have been scanned into the Library of Congress website where you can find all sorts of fascinating articles, papers, maps, and more from throughout history. Previously, none of this would have been available without walking in and asking specifically for Sanborn Maps and having to wait while a librarian searched for them in their system database containing maps from thousands of cities across the United States.
How about that for awesome technological advancements?
I'd like to share with you some close-ups of some of the locations featured in the Spokane Clock Tower Mysteries thus far, with more to come as more books are added!
Aren't these fascinating?!
Thanks to these maps, I've been able to accurately describe the 1894 city hall—which no longer exists—including the city police department, of which there are no photographs from 1901! The same goes for the Great Northern Railroad Depot, which was torn down in 1974!
Thank you, Library of Congress!
You can learn more about the historical locations in the first two books in my new historical mystery series here!
Pick up a copy of Butcher, Baker, Candlestick Taker and Cupboards All Bared wherever books are sold in every format!
Check it out from your local library, or if they don't have it, request it! Remember, you're still supporting your favorite authors by supporting your local library!
Be sure to follow me on Instagram and Facebook. Sign up for my newsletter to receive my newest blogs delivered straight to your inbox. You'll receive my latest short story, "Murder for a Jar of Red Rum," for free for signing up!