Butcher, Baker, Candlestick Taker Synopsis
Butcher, Baker, Candlestick Taker Synopsis
SPOILER ALERT!
If you have not read Butcher, Baker, Candlestick Taker, please do NOT read this post!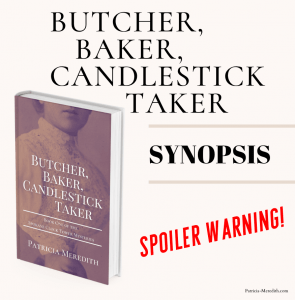 However, if you're looking for a synopsis because you're hoping to start Book 2, Cupboards All Bared, and you need a little help remembering what happened in Book 1, you're in the right place!
By special request, I'd like to share the synopsis of Butcher, Baker, Candlestick Taker here for those in need of it. This does not cover all the nuances and character development found in the novel, but I've tried to cover the most important parts necessary for you to remember before diving into Book 2.
Again, THIS DOES INCLUDE SPOILERS!
If you're looking for a character list, you can find that here!
---
April 1901: The designer of the Great Northern Railroad's new depot clock tower, Archie Prescot, has arrived in Spokane, Washington determined to leave his mark on history. Fate, and his ability to create unique clock chimes, leads him to a patroness, Miss Mitchell. He's delighted to join a blind blacksmith, Hayate Matsumoto, working on similar ideas, until their patroness is found beheaded in their workshop.
Archie's landlords, Detective Carew and his twin brother, Thomas, are on the case, hopeful they haven't taken in a murderer. The Carews begin by questioning Miss Mitchell's household, learning, amongst other things, the maid's abusive husband has gone missing and the house was burglarized the night before the murder.
Archie, meanwhile, is making new friends, including a young lady named Marian, who's recently returned to town after her grandmother's passing, and happens to have grown up with the maid of the house, Eleanor, as her governess. Marian and Eleanor meet to console one another, recalling how they met just after the Great Fire of 1889. Eleanor also reveals she's found proof that her abusive husband was having an affair with Miss Mitchell.
As the Carew brothers continue in their pursuit, they discover Miss Mitchell was strangled before she was beheaded. She was also being blackmailed by someone who learned she had made her money by stealing the patents of the blind inventor she was patronizing, and changed her will the day before she was murdered so that Matsumoto would inherit everything as recompense.
Archie's growing friendship with Matsumoto pulls him in two directions: fear that he is befriending a potential murderer, and finally finding a like-minded individual that he respects. To pull him in more directions yet, he discovers the woman he is falling for, Marian, is actually the burglar, though she swears she's no murderer.
Determined to prove the innocence of his new friend, Archie works with the Carew brothers only to learn that a second body was hidden in the blacksmith's fire. Reminded of the rumor that the Great Fire was started when someone attempted to bake a body in an oven, they begin to wonder if "the Baker" has returned.
The final clue is found by Marian, however, when she comes across Eleanor grinding bone for chicken feed grit, an ashy bucket of large bones—human bones—at her feet. She steals the bucket and sprints to the Carew brothers, Eleanor on her heels.
When Eleanor sees they have all the clues necessary to put her story together, she tells them her version of events: how she found her abusive, cheating husband strangling Miss Mitchell and had to defend herself against him. As she tries to recall how her husband's body ended up in the forge, "the Baker" reveals herself to be an alternate personality, one that comes out to protect Eleanor against the evil men in her life, like her first husband back in 1889.
So ends the first of the Spokane Clock Tower Mysteries…
---
Ready to dive into Book 2, Cupboards All Bared, now?
In this sequel to Butcher, Baker, Candlestick Taker, we're once again transported to Spokane, 1901. A body discovered in Hangman Creek looks to be the result of an accidental fall, but what begins as a "simple" mystery for Thomas Carew and his twin brother Bernard quickly becomes a lot more complicated, including implications that tie in with the bombings at the Idaho mines, and perhaps even President McKinley's planned visit.
Cupboards All Bared is Book 2 in the Spokane Clock Tower Mysteries.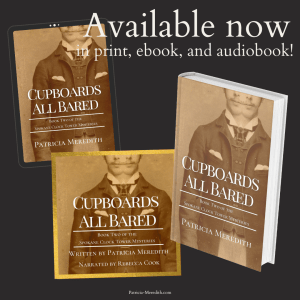 Cupboards All Bared is available in all formats wherever books are sold! Click the image above to find it in your favorite format, or request it today from your local bookstore!
Check it out from your local library, or if they don't have it, request it! Remember, you're still supporting your favorite authors by supporting your local library!
Be sure to follow me on Instagram and Facebook. Sign up for my newsletter to receive my newest blogs delivered straight to your inbox. You'll receive my latest short story, "Murder for a Jar of Red Rum," for free for signing up!