Book Club Discussion Questions and More
Book Club Discussion Questions and More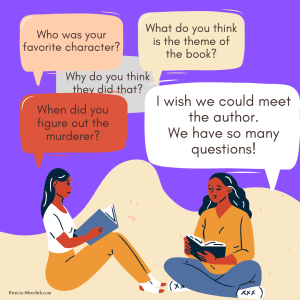 Has your book club read one of my books? Wondering what to discuss when you meet?
Here on my website, I've tried to provide a plethora of background information for those interested in learning more about the research behind my historical mysteries.
To assist in Book Club discussion, here are some questions and resources that might come in handy!
(I will add to this list as I post more for my books.)
Discussion Questions for any of the Spokane Clock Tower Mysteries:
1. With which character did you most identify? With which character would you most like to meet?
2. Did you have any favorite quotes from the book? Any lines that really stuck out to you?
3. Was there anything surprising about the book? For instance, some people are surprised to learn Spokane was not the "Wild West," just like Archie!
4. Did you guess the murderer before the ending? How about the identity of the Red Rogue?
5. Have you read any of the mentioned mysteries? Sherlock Holmes? Poe? The Leavenworth Case? 
6. What did you think about the researched history interwoven within the book? Did you learn anything new about Spokane?
7. Were there any themes that seemed important to you in the book?
8. Will you be continuing reading the series? (The first three books in the series are available!)
If you're from Spokane, an extra fun question for you might include: Were you familiar with any of the locations mentioned in the book? Do you have any personal memories tied in with them? Great Northern Clock Tower, Manito Park, Campbell House, etc. 
Synopses:
Butcher, Baker, Candlestick Taker
Character Lists:
Butcher, Baker, Candlestick Taker
History behind the mystery:
See Research Menu Tab
Subscribe to my YouTube channel
Recipes from the books:
See Recipes Menu Tab
Subscribe to my YouTube channel
Map of Spokane circa 1901:
View it on Google Maps to explore locations and routes that occur in the book.
Find more under the menu heading "Book Clubs."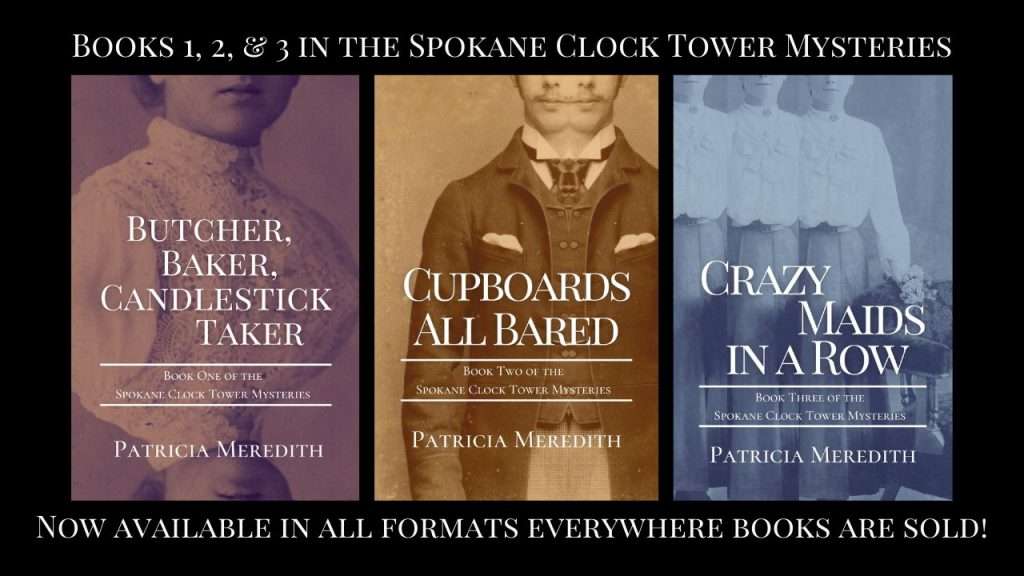 What's cooler than having the author join you for your discussion?!
I would love to meet with you! Contact me today about joining your discussion by emailing me at author(at)patricia-meredith.com. I'd love to answer all your questions and reveal more about the research, writing process, and character development that went into the writing of the book!
I am available for both in-person and virtual events. I can't wait to hear from you!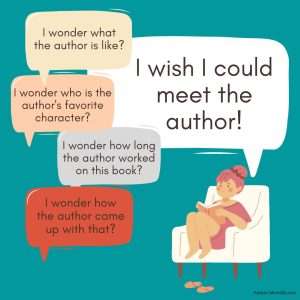 –Follow Me–
Sign up for my newsletter to receive my newest blogs delivered straight to your inbox. This includes notification of my newest videos featuring sneak peeks and behind-the-scenes for all my books! You'll receive my latest short story, "Murder for a Jar of Red Rum," for FREE for signing up!
Be sure to also follow me on Instagram and Facebook to hear the latest news concerning new book releases and events. And of course, subscribe to my YouTube channel!
You can also add my books to your Want to Read list on Goodreads! Follow my Author Page while you're there to hear when a new book is added!
Learn more about my new book, A Deed of Dreadful Note, first in the Anna Katharine Green Mysteries here!
Thank you for reading, watching, and supporting me and my writing!