Clued in Mystery Podcast Interview
Clued in Mystery Podcast Interview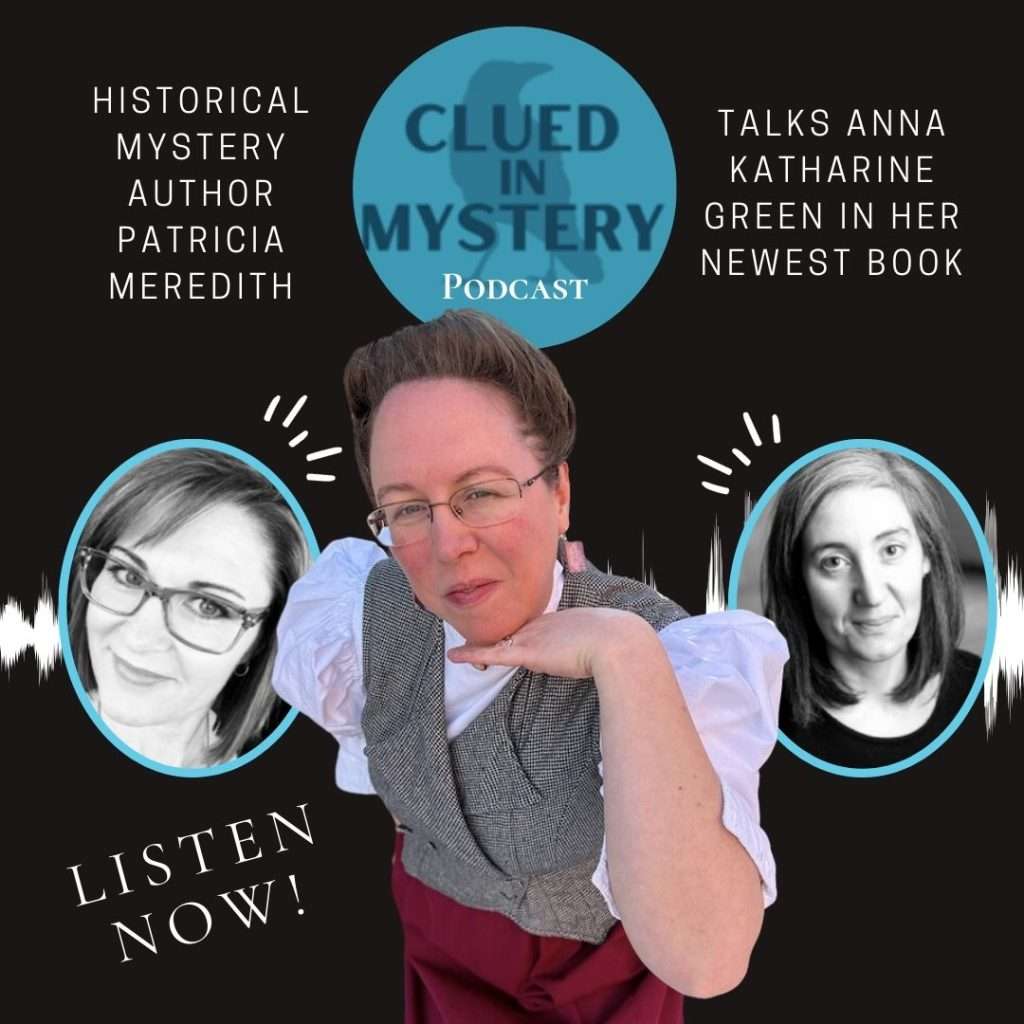 LISTEN NOW
I had the honor of being interviewed by one of my favorite podcasts: Clued in Mystery!
Brook Peterson and Sarah M. Stephen and I had a wonderful conversation about Anna Katharine Green, my newest historical mystery featuring her, all the historical research that went into the writing of it, and more! Tune in wherever you get your podcasts and take a listen today! Be sure to subscribe as Brook and Sarah cover a wide variety of fantastic topics within the mystery genre!
Follow the podcast and the hosts on Instagram:
@cluedinmystery
@brookpetersonauthor
@sarahmstephenauthor
You can find the episode on your favorite podcast app or on their website at CluedinMystery.com.
A Deed of Dreadful Note
Fifteen years before Sir Arthur Conan Doyle published A Study in Scarlet, Anna Katharine Green began writing The Leavenworth Case, inspiring the creation of detectives like Sherlock, Poirot, and Wimsey, as well as almost every device and convention we now recognize as standard in detective mystery fiction.
When her father's client is found murdered, Anna takes up the call to prove innocent the young girl accused of the murder. The investigation inspires many of the events, characters, and descriptions that would later be published in her debut novel.
A love letter to mystery and writing itself, A Deed of Dreadful Note is an homage and reintroduction to an author who was the Agatha Christie of her time but a forgotten female today.
This book is a fictionalized account of how Anna Katharine Green's first novel may have come to be…
Now Available!
Ebook—Amazon
Audiobook—Wherever audiobooks are sold! Support local and order through Libro.fm!
Print—Order a signed copy from me here! Support local and ask your favorite independent bookstore to order in a copy! Also available through Amazon.
You can also add my books to your Want to Read list on Goodreads! Follow my Author Page while you're there! Add A Deed of Dreadful Note to your list here!
—Learn more about Anna Katharine Green—
Watch my YouTube Channel playlist all about Anna Katharine Green.
Head here for a complete timeline of Anna Katharine Green and the History of Mystery Fiction.
A Deed of Dreadful Note is a piece of historical fiction, created by blending The Leavenworth Case with Anna's personal history, recorded thoughts, and relationships since, as she said herself, "Truth is stranger than fiction." Where possible, I have used Anna's own words to capture the grace and wit with which she approached the world and her writing, in particular. I've now collected all of the quotes incorporated into the novel in one easy-to-access place!
AKG and I have a lot in common, it turns out! Watch my video and read this post to learn why I consider Anna Katharine Green my sister from another century.
Read Mary Hatch's thoughts on her cousin and best friend Anna Katharine Green in an article originally published in 1889.
Find out what Anna Katharine Green thought was the answer to the question "Why Human Beings Are Interested in Crime?" by reading her article published in 1919.
November 11th is Anna Katharine Green's birthday! Read this post to learn more about her impact on mystery fiction.
Find my full review, great quotes, and learn how Anna Katharine Green inspired Agatha Christie here from when I re-read The Clocks, and began to really research who this Green woman was.
Read my full review and great quotes here from the first time I read The Leavenworth Case.
Find my full review and great quotes here from the first time I read That Affair Next Door, the first Miss Butterworth case.