Gilded Age Tea Etiquette
Gilded Age Tea Etiquette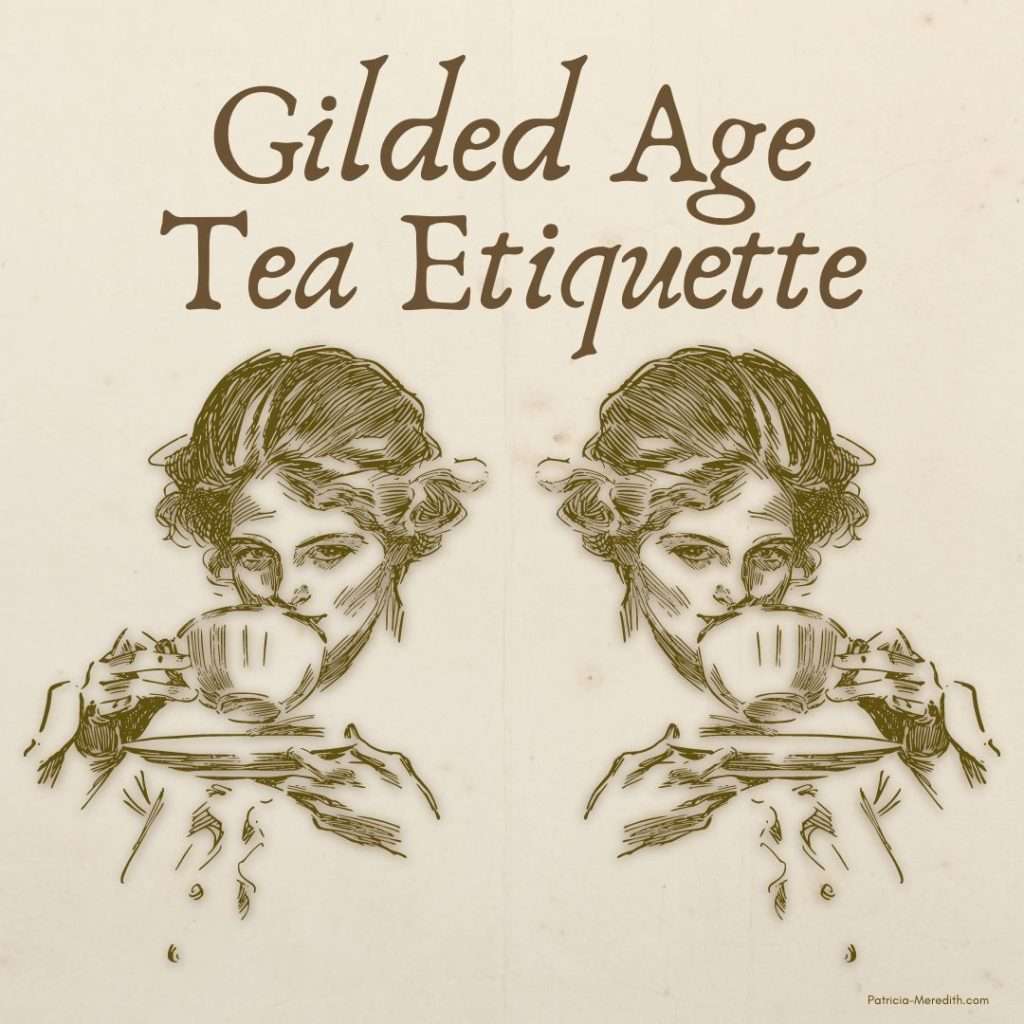 For those of you who weren't able to attend our event, we had an incredible tea party this Sunday at Heavenly Special Teas, my favorite local teashop! (Learn about the next event at the bottom of this post!)
I thought I'd share some of my readings concerning tea etiquette, since when I was researching for Butcher, Baker, Candlestick Taker, some of my favorite resources to turn to were old cookbooks and etiquette books—both of which were quite prolific in the 19th century.
You can read a collection of quotes from 19th-century cookbooks regarding cooking, cleaning, and home health elsewhere on my website. I've also shared a few recipes on my YouTube channel.
And now, here are a few sections concerning tea!
Home Cook Book
Published in 1877
"Good manners cost nothing, good taste is a saving, and good housekeeping actually makes money."
"See that the room is light and especially warm, for people want comfort at meals of all times…"
"The form of card for afternoon tea, which means ladies in visiting or carriage dress, a harlequin tea service, each cup different, or a set of choice East India china, rooms cosey with warm curtains, and signs of womanly occupation, everything in short, to have the daintiest home-look possible, are issued in this fashion:
MRS. BRADLEY COWLES,
Friday, January 18th,
Tea at 4 o'clock.
39 W. 188th St.
"Guests arrive in the five minutes before the hour, or the five minutes after. The tea is brought in punctually and placed on the hostess' table in the corner, where are the urns of black, green, and Russian tea for those who like each, a basket of wafers, delicate sandwiches or chicken or thin sliced meats, and a basket of fancy cake. If the English style is followed, the cups of tea are carried to the guests on a tray, and a tiny table to rest the cups on placed in reach of each group. Centennial enthusiasm has brought the customs of our grandmothers into honorable imitation, and the old fashion tea party, such as Mrs. Washington used to give, are very successful, gathering ladies for a couple of hours gossip in afternoon dress, with hoods and cloaks laid aside, the gentlemen dropping in just before tea, which is served in hospitable fashion, all sitting at table, where chicken, oysters, preserves, compotes, and cake appear in old fashioned plenty. The party breaks up by six, unless the old habit is carried farther by pretty girls and escorts coming in for a dance in the evening, to be home by half past ten. The style of these gatherings depends on the elegance in equipage and surrounding, where the choicest old china, silver, abundance of flowers, embroidered chairs, and fashionable nicknacks contrast with the easy, neighborly way of receiving."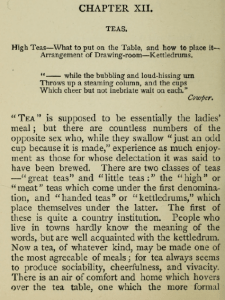 Manners of Modern Society
Published in 1892
"Tea always seems to produce sociability, cheerfulness, and vivacity. There is an air of comfort and home which hovers over the tea table…"
High tea is a full meal, but wasn't often found in the country since "late dinners interfere with the social, informal life that country people are wont to lead."
"A white cloth is always laid on the table for 'high tea,' and on it down the centre are placed flowers, and if in summer, fruits. Nothing looks more tempting than bowls of old china filled with ripe red strawberries, and jugs of rich cream by their side. Glass dishes containing preserved fruits of different colors, such as apricots, strawberries, marmalade, etc., take their stands at short intervals. Cakes of various kinds—plum, rich, and sponge; and then within easy reach of the 'tea-drinkers' are hot muffins, crumpets, toast, tea-cakes, and what not."
"Very often the gentlemen wait to a great extent upon themselves and the ladies on these occasions."
"Tables and chairs should be so placed that the guests naturally form themselves into little groups, and can with ease pass from one knot to another."
Afternoon tea was served between 4:00 and 7:00 p.m., given that dinner was usually served late, between 9:00 or 10:00 p.m.
"The tea equipage is brought in and placed on a table near the lady of the house, who dispenses it herself. Gentlemen, of course, will tender their services…"
"People do not assemble at these five o'clock teas to eat and drink, but merely to see and talk to each other, and take a cup of tea the while as a refreshment."
"You take your departure whenever you feel inclined; but should on no account stay later than seven o'clock."
Social Etiquette by Maud C Cooke
Published in 1896
"The distinction between five o'clock teas, kettledrums, afternoon receptions, and high tea is not very clearly drawn. Strictly speaking, the afternoon or morning reception is the most formal, and has been dwelt upon in a former chapter."
High tea
"This is really the evening supper… The ladies come in visiting costumes, and the gentlemen in morning dress in country towns. In cities, sometimes dress coats and light gowns are considered essential. Guests are expected to spend the evening."
"Cards or any of the many pencil-and-paper games that are pleasant at such gatherings" were often played.
The menu for an event like this would include

bouillon served "in cups, and be sure that it is very hot. Have a thin slice of lemon floating on the surface of each cup."
"choice blanched celery…it is well to have a couple of short stalks of celery laid at each plate and spare that amount of waiting."
pickled oysters
sandwiches "neatly piled on fringed napkins on bread plates"
"olives and salted almonds may fill small glass dishes"
"cakes should be prettily arranged in a cake dish with a doily under them"
fruit, to include "oranges, bananas, grapes"

"Have each cup and saucer set in a plate, and take all three pieces off at once.… Each guest must be supplied with a fruit plate, doily, finger-bowl, fruit-knife, and fork or spoon."
Five O'clock Teas, or "At Homes"
"Some ladies make it a point to be 'at home' almost every day at a certain hour, and serve tea or coffee in their drawing rooms, accompanied by either wafers, macaroons, fancy cakes, or small delicate sandwiches, and perhaps bouillon for masculine callers."
"Such a lady who is bright and interesting, who gives a warm welcome, yet does not bind any one to a longer stay than the conventional ten minutes, is sure of drawing about her a delightful circle of acquaintances, men and women alike being pleased to drop in on their way home from the city, or from more pretentious gatherings."
"This is the afternoon tea in its simplest form. In London afternoon tea is universal. If you are calling anywhere in the latter part of the afternoon, tea and thin bread and butter will be offered you as a matter of course, or if it has already been handed round, you will be asked if you have had your tea, and if not a fresh supply will be immediately brought."
The menu usually included bread, butter, cake, and perhaps "in warm weather, ices or strawberries."
"These slight refreshments are usually served in the simplest way. The hostess herself, or if the guests are numerous a white-capped bonne or two, pours out the tea and chocolate and the men of the party hand it to the ladies. Often the children of the house flit to and fro, carrying cups of tea or plates of cake, and everybody talks to everybody else. There will be the best pictures on the walls or the easels, often the best music from people the world knows well, and a reception thus simple in point of refreshment, but rich in the pleasures of art, is a memorable delight."
"Walking or carriage costumes are worn. Men wear morning dress. The hostess dons a handsome reception gown, never an evening dress. The young ladies who assist her are prettily clad in fabrics that suit the season, but which must not suggest ball toilet."
The table "itself may be a small oval, circular or hexagon shape. Any one of these is preferable to a square one. If the surface of the table is highly polished and it is preferred not to cover it entirely, a handsome square or round centerpiece doily, which is only a dinner centerpiece, is used, or a teacloth a yard square may prettily and wholly veil it."
"Another beautiful effect is to do away with the cloth and let the polished wood of the table set the keynote of color. An oak table, with its rich yellows and browns and its lurking suggestions of green, would afford a color scheme with which all shades of amber, bronze, and yellow would blend."
Upon this "are required a tea caddy, teapot, a hot water kettle, a cosy, a wafer or cracker dish, two or three pretty cups and saucers, cream jug and sugar bowl."
"To measure the tea with a spoon is not considered quite so correct, and so redolent of the old-time flavor as to use the cup-cover of the caddy, 'one fill to a brew.' A glass mat may be provided to set the hot teapot upon, and the spoons are laid loose upon the table."
"Cups should hold more than an actual thimbleful, though they need not hold a pint, and should bear some relation to the laws of gravitation in their poise upon the saucer. They should have a smooth rim. A fluted edge is a most uncomfortable finish for a drinking vessel. The wafer-basket may be silver, china, or cut glass."
"Pretty teapots for the five o'clock tea table are of rosewood in a pinkish brown and in the usual olive coloring. The handles of the lids are butterflies, and a butterfly is on the handle used for pouring. Some of these elegant little pots are overlaid with a tracery of silver. Teapots interred for Easter favors are of brown porcelain in the form of a chicken with the mouth doing duty for the spout."
Modern Manners
Published in 1899
"At the afternoon reception the hostess may wear a handsome demi-toilet, cut low in the throat if she wishes, and made of satin, silk or velvet; but she should not wear the full evening dress, nor her expensive jewelry or laces. She may have two or three friends to receive with her. The guests wear handsome reception dresses or the tailor-made street costumes now so popular…and they are expected to keep their bonnets and gloves on."
"The gentlemen wear the morning dress on all these occasions. Overcoats and umbrellas should be left in the hall or dressing-room, when one is provided, but hats may be carried into the drawing-room."
"Visitors do not usually stay more than half an hour at these receptions, although when they are especially interested they often stay an hour or more. They circulate freely, talk with each other, or listen to music or whatever is provided for their entertainment."
"The refreshments are light, as the guests usually care more for the social intercourse than for anything else. Tea, coffee, chocolate, or bouillon, with ices, cakes, fruits, and sandwiches, may be served by members of the family…"
"A 'high tea' as it is called in England is like the old New England tea party, with the addition of some cold dishes. The lady may sit at one end of the table, with the tea-tray before her, and the gentleman at the other, with a cold chicken or some similar dish to carve. It gives a solid meal to those who are accustomed to dine at that hour, as salads are usually passed, and occasionally scalloped oysters, together with hot biscuits, cakes, etc. This meal is frequently served on Sunday evening to relieve the servants; but while it is easier for the cook, it does not relieve the others, as there are quite as many dishes to wash, and as much service is needed."
Wish you could attend an event like this? You can!
I'll be holding a Book Launch Dessert Tea Friday, May 20 at 5:00. Join me for tea and scones while I share a reading and Q&A! I'll be sharing more about the writing and research behind the newest book in the Spokane Clock Tower Mysteries: Cupboards All Bared! Copies of both books will be available at a discount at the event! There will also be games and prizes!
This event will include an endless teapot with your choice of tea, one dessert, two mini scones, and fruit. RSVP today right here. $20 holds your place and covers everything including tax and gratuity!
I look forward to seeing you there!
Sign up for my newsletter to be the first to receive a formal invitation to this event!