Cupboards All Bared Reading 4
Cupboards All Bared Reading 4
In this reading we return to the body in Hangman Creek, a location you can still visit today, this time to introduce two real-life historical figures: Coroner Nathan M. Baker and Officer Walter Lawson. You can learn more about both of them in my blog here about historical characters.
In this sequel to Butcher, Baker, Candlestick Taker, we're once again transported to Spokane, 1901. A body discovered in Hangman Creek looks to be the result of an accidental fall, but what begins as a "simple" mystery for Thomas Carew and his twin brother Bernard quickly becomes a lot more complicated, including implications that tie in with the bombings at the Idaho mines, and perhaps even President McKinley's planned visit.
Cupboards All Bared is Book 2 in the Spokane Clock Tower Mysteries.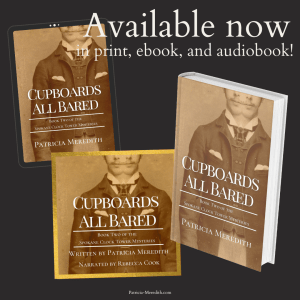 Cupboards All Bared is available in all formats wherever books are sold! Click the image above to find it in your favorite format, or request it today from your local bookstore!
Check it out from your local library, or if they don't have it, request it! Remember, you're still supporting your favorite authors by supporting your local library!
Be sure to follow me on Instagram and Facebook. Sign up for my newsletter to receive my newest blogs delivered straight to your inbox. You'll receive my latest short story, "Murder for a Jar of Red Rum," for free for signing up!