History to Mystery
History to Mystery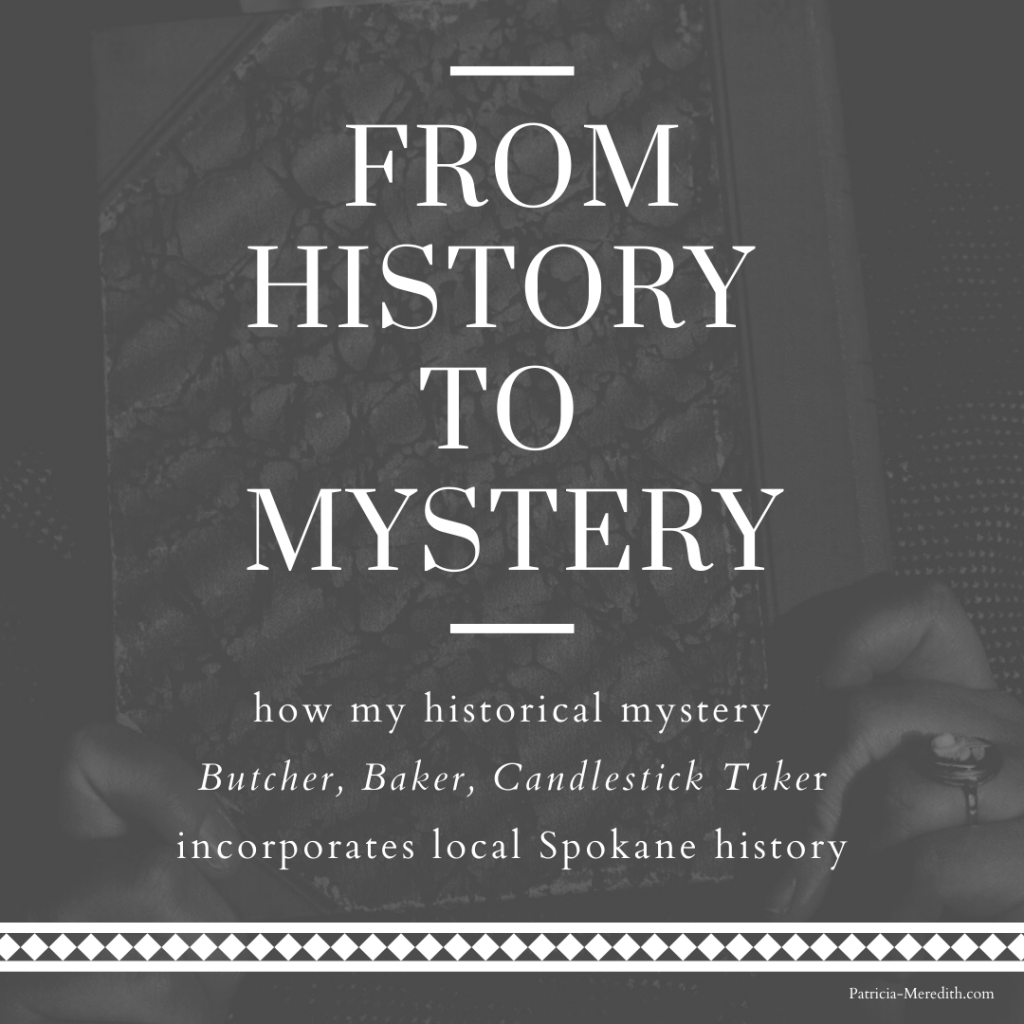 My historical mystery Butcher, Baker, Candlestick Taker is the first in a series of murder mysteries set in Spokane in 1901.
Archie Prescot has traveled across the country to Spokane, Washington to design the clock tower for the new Great Northern Railroad depot. When his talent for creating unique clock chimes connects him with a local patroness, he is thrilled, until she is found dead in the workshop of his new colleague. Her grand home on the South Hill provides ample suspects, as Archie works with his lodgers, Detective Carew and his twin brother, to prove his fellow inventor and himself innocent of the crime. While on the hunt for the murderer, romance crops up when a young lady crosses his path with a mysterious past of her own. Six intersecting storylines create a cohesive look at a convoluted murder that will require all points of view to discover the truth.
When it came to the actual creation of the novel, the research and writing were so integral it hasn't been a matter of researching and then writing, but more of a back and forth, push and pull.
Throughout the novel, I've attempted to stay true to Spokane's history, including people. For example, the coroner and lawyer involved are real people, and are even visited in their actual locations from the time, which I found in the Spokane City Directory from 1901. Every member of the police, other than my lead detective and his brother, are actual officers of the time. The locations visited in the book are either real locations still capable of being visited or are inspired by a place you can still visit. (Click here to view a map where I've marked all the locations of the book.) Important events, like the Great Spokane Fire of 1889 or the arrival of the first electric automobiles, are referenced and influential to the book's plot. But I'm getting ahead of myself. Let's go back to the beginning…
I ended up dividing my research between four central areas:
hands-on research
first-hand accounts
second-hand research
and finally, expert readers.
Hands-On Research
As I mentioned in my blog about why I chose Spokane, I began with the Campbell House. After speaking with the docents there, they told me to talk to the Ferris Archives next door. I set up a time to come in and research after learning that the person now in charge of the archives was Anna Harbine, a girl I actually already knew from Whitworth University days! (Typical Spokane—everyone is connected!) Then I was told to try the Northwest Room.
It was here I found the basis for what I needed. I didn't have a specific date yet, just knew 1901. So I was thrilled to discover the construction of the iconic clock tower began in 1901!
Because of the fight to keep the depot during the Expo 74 building, a lot of the information I needed had already been collected for me. Then I just had to track down each of the original sources and newspaper articles, which led me to more and more detailed descriptions of the building.
One of the things I noticed was the designer of the clock for the tower is listed as Seth Thomas, a company in Connecticut, but there was no name associated with it.
I realized one of my characters was perfect to play the part of the designer of the clock for the tower.
And from there it just kept trickling down until each of my characters were so connected to Spokane it was clear this was where they belonged.
Other hands-on research included:
Visiting the Campbell House, as stated before.
Visiting the Inland Northwest Rail Museum out in Reardan, so I got to walk through actual trolley cars and train cars and see locomotives from my time period.
Walking around Manito gave me ideas for scenes set there.
A Mother's Day walking house tour, which gave me more ideas for the design of the house.
And walking around downtown, including visiting the clock tower itself!
First-Hand Accounts
I wanted to get as much as I could from first-hand accounts, from people who actually lived and breathed and saw Spokane in my time period.
Dear Mother, as I've written about before, was extremely helpful in providing first-hand impressions of Spokane, its people, its environment, and its culture in 1901.
When I found Spokesman-Review articles here, it blew my mind. There's nothing quite like reading articles from the time period to get the creative juices flowing! When I first began to research, I hadn't picked a date, so I just started browsing articles from around when the clock tower had begun construction, which gave me more ideas for things that could affect my characters, and led me to pick Monday, April 15 as the first day of my book.
The Polk's City Directory for 1901 and 1902 were really helpful in providing actual addresses and locations of people and places in Spokane in 1901. The Sanborn Maps from that era were also helpful in locations.
The History of Spokane County by Jonathan Edwards, published in 1900, has helped me to describe people and places from that time period, as well as The History of the City of Spokane and Spokane County by N.W. Durham, published in 1912.
Cookbooks from the era were also incredibly influential in many scenes and characters in the books. I shared more about that in these three blogs:
Also at the Ferris Archives I found diaries, letters, oral histories, and more from Spokanites, including the Campbells, from 1901.
Second-Hand Accounts
I next moved to nonfiction historical research, to fill in all the gaps, and to get even more inspiration. This included books and websites like:
Spokane's Street Railways: An Illustrated History by Chas. V. Mutschler, Clyde L. Parent, and Wilmer H. Siegert.
Life Behind the Badge: The Spokane Police Department's Founding Years, 1881-1903 by Tony and Suzanne Bamonte, with the Spokane Police Department History Book Committee.
Anything by the Bamontes, including Manito Park: A Reflection of Spokane's Past, Spokane: Our Early History, and Spokane and the Inland Northwest Historical Images.
Saga of a western town…Spokane by Jay J. Kalez.
Influential Women of Spokane by Nancy Driscol Engle.
Show Town by Holly George.
Our City Spokane by Marcia O'Neill Schrapps and Nancy Gale Compau.
Nostalgia Magazine articles too numerous to name.
TheLocalHistory.com by Logan Camporeale
I also found this Google "map" someone had made of the streetcar routes through Spokane, which I then used to ensure my characters were getting off and on at actual locations, in addition to using it to create my own map of locations in my book. (If someone knows who made it, I'd love to credit them by name in my acknowledgments!)
Not to mention all the books I came across that I've marked as ones I'll need to return to for sequels!
Expert Readers
One of the last things I did was to have experts read my book for accuracy. This happened a few times throughout the writing process.
The wonderful Susan Walker, the head of the Spokane Regional Law Enforcement Museum Archive, signed off on my book for historical accuracy regarding the police side of things.
I also had Logan Camporeale read it, who was the head of the Campbell House docent program and was managing the Ferris Archives at the time of my research. He only commented on two points, which I fixed!
I spoke with a blacksmith to ensure accuracy in that aspect. Robert Silvan offered me great details about his work with the old, original forges, making appearances at the Spokane Ren Faire and writing conferences. He also turned out to be an expert in Japanese history, having lived and studied in Japan for two years, to learn how they did blacksmithing, which was perfect as my blacksmith, Hayate Matsumoto, is Japanese. He also worked with me to figure out how he could be blind, which was an idea that had struck me early in my writing, though I wasn't certain then how that would work, even if it would work. Thankfully, we worked out how to make it possible and believable while remaining true to the historical way of blacksmithing.
My husband worked at Pounder's Jewelry at that time, so he was able to hook me up with their highly trained and skilled clockmakers, who gave me incredible insight and details into the art of clockworks.
In Conclusion
I could go on! All this to say, I really wanted to make sure my book was historically accurate where it needed to be, so that readers would be more likely to go with me on the murder plot, which is fictitious.
On the first book, I often became distracted by my research, falling down rabbit trails of information or spending far too much time reading newspaper articles—they're really SO FASCINATING!—and then ending up with more research than I could possibly use. But every new thing I learned impacted the book!
For example, one of the things I learned during a rabbit trail read through newspaper articles was that President William McKinley was scheduled to visit Spokane and stay with the Campbell's a couple weeks after the events of my first book. So guess what event is central to the plot of the sequel??
I've also started a list of Spokane locations, events, and people that I'd like to have appear in future books in the series.
So, if you know people who appreciate historical accuracy when it comes to fiction, be sure to tell them about my book, coming THIS FALL: Butcher, Baker, Candlestick Taker, the first in the Spokane Clock Tower Mysteries.
For the latest updates, be sure to follow me as @pmeredithauthor (Facebook, Instagram, and Goodreads).
Sign up for my newsletter to get a taste of my writing by reading my short story Escapades of a Spokane Thief and to be the first to hear updates!
Thank you for reading!